eSandol.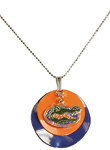 com, operated by Bethel International Inc., recently expanded its line of licensed collegiate jewelry and accessories to offer new merchandise at consumer-dictated price points. "We offer fashionable feminine styles that women know was made just for them," says J. Kim, sales director of eSandol.com.
Representing around 35 colleges, several new pieces have been added at lower price points. "We introduced this new selection because jewelry consumers have become more price conscious," Kim explains. The company's new products wholesale for $3 to $6, and retail for $7.99 to $19.99, each. "The less expensive pieces complement our higher end jewelry, and they sell exceptionally well," he points out. Popular necklaces, for example, include the three layered circle, heart shape and key lock design.
eSandol.com's higher quality pieces, which provide more detail and thicker chains, wholesale for $10 to $15, and retail for $19.99 to $34.99. "We are still in the business of giving retailers gift type quality items, and our lower priced pieces offer great value, too." The minimum order for jewelry is one dozen pieces, and the company sells a three-tiered display tray.
High-end handbags still strong sellers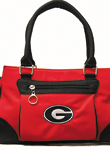 Conversely, consumers are willing to spend more for good quality handbags and eSandol.com recently expanded its high-end accessory collection. "Several years ago, our median wholesale price point was $15 to $18 and now it is $23 to $27. On the retail side, our median price is now $54.99 to $70," Kim continues. "Our new Signature line offers a Jacquard print that is similar in looks to what Coach and Dooney & Bourke have. The logo is woven into the fabric. We also carry handbags made of a grooved PVC, which is really durable and great quality."
The majority of the firm's Signature and grooved PVC handbags wholesale for $40 and retail for $80. eSandol.com also has lines using another PVC material and a polyester blend, which wholesale for $18 to $30. The company has pocketbooks with more than 50 licensed colleges. The minimum order is one piece, and volume discounts are available.
Satin and winter scarves
eSandol.c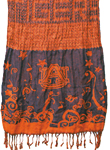 om has also added inventory to its line of women's stylish satin and winter scarves. "We have four patterns in nearly 50 schools," Kim shares. "If you look at scarves for the licensed collegiate market, most are a unisex one layered strip. Our scarves are larger and designed just for women." The minimum order for scarves is one dozen. Satin scarves wholesale for $45 per dozen and winter scarves wholesale for $102 to $120 per dozen. eSandol.com also carries a variety of scarf pendants.
Where to buy:
Bethel International Inc.
4610 Bragg Blvd.
Fayetteville, NC 28303
Tel.: 910-868-4554
Visit:
eSandol