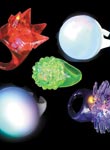 Flashing Panda wholesales an extensive line of light up LED novelties, including clear barware and ice cubes, party favors and toys, key chain flashlights, party jewelry and more. The company recently expanded its light up raver ring selection with several of the most popular new styles, including finger beams, three styles of flashing jelly rings, a flat top "button" ring and the orb ring. "These items are very hot with ravers, and they are great for birthday parties and clubbing, as well as for everyday fun for both kids and adults," says Daniel Odulo, founder of Flashing Panda. "They are great sellers, not only in general retail stores, but in specialty stores, flea markets, festivals and other venues, too."
Finger beams are fun lights that attach to fingers, or to objects such as tools or pencils. The ultra-lightweight LED lights are sold in four-pack cards, and the units are powered by three long lasting, replaceable button-cell batteries, which are included. Finger beams are available with fiber optic strands as well.
Flashing Panda's jelly flashing LED rings are soft, stretchable and waterproof. Wearers simply squeeze the ring to turn it on and off. Jelly rings come in assorted colors, all of which flash with multi-color LED lights, and are currently offered in three of the most popular styles: berry, which reflects the bumpy texture of this type of fruit; porcupine/urchin, which is designed with tentacle appendages; and spike rings, which give wearers a particularly sharp look, "and go great with our spike bracelet and the spike choker necklace," Odulo points out.
The company's large, white flat top button and orb LED multi-color rings, which are about one inch in diameter, offer six different light modes. The orb ring features the "mood" mode, in which the ring slowly cycles through various colors. For both styles, one button is used to turn the ring on and off, as well as to change modes, and batteries are already installed in all rings.
"We offer all the newest rave and party merchandise to retailers at low cost," Odulo adds. "Wholesale price on the rings is well under $1 each and retail is $3 to $6, depending on the venue." The products, many of which include point of purchase displays, are sold in 24 or 48 lots, as well as in cases of larger quantities. Flashing Panda adds dozens of new items to its roster on a regular basis. "Like us on Facebook," Odulo suggests, "to be the first to know when we add exciting new items to our catalog."
For more information:
Flashing Panda
1600 Dell Avenue Unit H
Campbell, CA 95008-6910
Toll Free: 877-357-2632
Website: www.FlashingPanda.com
(Be sure to check out the Wholesale section.)