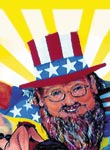 The good old days are no farther than Wild Bill's, a business built on age old paraphernalia, including Grateful Dead nonalcoholic wine, overgrown bobble head figurines, sepias and show print posters. With both an online presence and a shop in Middletown, CT, company owner Bill Ziegler has a passion for yesteryear, noting, "Nostalgia sells in all economies. We might have a bad economy, but people still buy nostalgic items because they bring them back to better times." The company offers wacky whatnots, rock 'n' roll buttons, postcards and magnets, and has been doing political and satirical posters for 20 years. Posters are a huge part of Wild Bill's, and the firm sells more than 600 designs, featuring sentimental events and classic rock 'n' roll bands. Ziegler's posters favor bands from the 1960s, and he is always adding fresh merchandise to his line.
New to Wild Bill's this year are glow in the dark show print posters, made of heavy cardboard stock and about 14 by 22 inches large. "They are like the old black light posters of the 70s. You put them under a black light and they glow," Ziegler points out. Introductory artwork includes psychedelic swirls and rock and roll icons, all printed in the company's shop on an old Heidelberg press, with more designs to come.
Pricing is tiered, and posters wholesale for $5 each for 10 pieces, $2.75 each for 100 and $2.25 each for 1,000 pieces. There is no minimum order, and a single order can contain different poster designs. Suggested retail is $5 to $10, and retailers receive a complimentary point of purchase display.
For more information:
Wild Bill's
1003 Newfield St.
Middletown, CT 06457
Tel.: 860-635-1226
Website: www.wildbillsonline.com