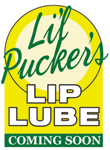 Outdoor Hands' Li'l Puckers Lip Cream, much like its parent product line, Outdoor Hands' Skin Therapy Cream, meets the guidelines of the company's mission: to make a difference in someone's life. Containing an enhanced pharmaceutical formula, Li'l Puckers Lip Cream uses a unique blend of certified organic oils and botanical extracts to heal, soothe and moisturize damaged lips. For people who experience painful cracking during the dry and cold months, as well as a result of nature's seasonal ailments such as sunburn and windburn, Outdoor Hands' lip cream provides much needed and continued relief with a couple of daily applications.
Therapy and Value in a Quarter to Third of an Ounce Tube
Typical lip products offered in a quarter to third of an ounce tube don't compare to the half ounce tube of Li'l Puckers sold at $1.95 wholesale, with a suggested retail of $3.99. Offered as a POP display with good value, Li'l Puckers Lip Cream can be purchased in a 24 or 30 count prepackaged display. For the purchase of two or more displays, Outdoor Hands offers free shipping, as well as distributor and volume pricing upon request. Ideal for most independent retailers, Li'l Puckers Lip Cream has found success in brick and mortar drug stores and gift shops, as well as hardware and flower stores.
Li'l Puckers Lip Cream shouldn't be confused with other lip products. It's not a sticky gloss nor a waxy balm, it's a cream. According to co-owner, Robert Fine, "There's nothing impeding the absorption of moisture and healing agents by dry and damaged lips. You can actually feel the lotion being absorbed as it's applied." Offered in a soothing mint flavor, Fine hopes the cream will provide much needed relief to those burdened with continual dehydration of lips. After four years and product success, Fine admits, "The company is looking to grow our healing product line to meet the mission of helping others through pharmaceutical formulated products."
For more information:
Outdoor Hands LLC
318 Baston Road, Suite 103
Augusta, GA 30907
Tel.: 706-855-1955
Toll Free: 866-880-1915
Website: www.outdoorhands.com