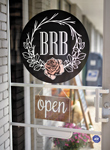 Just over a year ago Amy Polinsky and her family moved to Newtown, Connecticut, from Florida. While living in Florida, Amy managed a fitness studio and began working as a stylist for her husband, a commentator on WWE. This has given her experience in both the retail and fashion industries. Upon moving to the northeast, Amy took a year off to be a mom "and started going crazy." She needed something more to do and one night, when Amy was out with friends, she came up with the perfect idea. Amy's friends had been talking about shopping and realized there was nowhere around town to shop for clothes. Later that very night, Amy started writing her business plan. "If anyone was going to do it, it was me," Amy says with a laugh. Before opening her own store, Amy attended women's development classes and began to set her business plan in motion. On September 16, 2017, Basil Rose Boutique opened for business.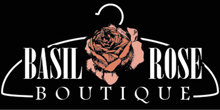 Outfitting her husband in trendy pieces has given Amy a lot of attention and the ability to grow a personal stylist company in addition to Basil Rose Boutique. Her husband's coworkers always ask him where he finds his clothes and now call Amy for her fashion services. She explains she has "a good eye for style" and styles new and old friends, even "shipping clothes to friends from high school."
Besides Amy's keen sense of style, her community involvement also brought her success and new connections. "If you want to stay afloat, you have to give back," explains Amy. She takes part in many community outreach programs and charity benefits. "Everyone's a big family," she says. Amy organized a fundraiser for her son's baseball team through Basil Rose Boutique in which proceeds go towards travel expenses for the team. In addition to this fundraiser, Amy has hosted multiple successful events which have brought attention to Basil Rose Boutique.
Before delving into the fashion world, Amy was a schoolteacher for 10 years. Her previous experience creating lesson plans and organizing classroom activities now helps Amy come up with creative events for her shoppers. During the holiday season, Basil Rose Boutique hosted "Booze and Browse," a male-only event. Spouses, girlfriends, mothers, and any special ladies in a man's life would come in and put together a wish list of items they wanted. The men would come in one night to shop and buy the exact presents their ladies wished for. Throughout the event, there would be bourbon available and Amy and a friend would provide gift-wrapping. Having fun events like this has helped Amy reach a wider audience and bring people into her shop, like men, who normally might not visit.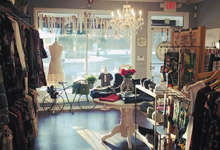 Basil Rose Boutique offers shoppers more than memorable experiences and adorable products. Most of all, they are attentive. Amy's biggest piece of advice is to "really connect with the community." She urges retailers to "listen to feedback." Based on suggestions, Amy has "ordered things I'd never have thought of." Make sure your customers feel attended to, welcome, and appreciated. Complimentary tea and coffee are always offered at Basil Rose Boutique, and Amy encourages customers to "shop and smell the roses." Retailers need to listen and respond to their community while giving the best possible shopping experience.