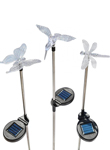 Lily Zhu launched Solar Wholesale at The Green Frontier Fest in support of President Obama's renewable energy approach in 2008. Solar Wholesale's mission is to educate the public about solar as an alternative energy, encourage frequent use of solar energy, and reinforce renewable energy product development. "All Solaration ® products have a solar panel or a renewable energy source," says Lily.
For the past decade, Solaration by Solar Wholesale has provided practical and environmentally friendly products to customers nationwide. "We exhibited solar backpacks and chargers at the CES show in 2009," says Lily. The Price is Right then featured her solar backpacks during their Earth Day showing later that same year.
Besides backpacks, the Solaration brand features solar camping lanterns, decorative garden lights, and solar garden stakes. Independent retailers, gift shops, boutiques, and garden centers all do well selling Lily's products. Recently, "the fluttering hummingbird and butterfly have seen the most visible growth," says Lily, and "is sought after by many." These fluttering cuties come in various hummingbird, butterfly, insect, and flower designs. "They have a battery and solar power option so it works both indoors and outdoors."
Decorative garden stakes are another popular option for spring. Solar Wholesale has many designs, including religious and fairy themes. "Our latest development is 18 LED garden stakes that create various starburst, flower, and angel effects."
In addition to their best-selling garden line, Solar Wholesale has many innovative toy and gift products such as solar powered racecars and helicopters. The Solaration brand offers a "Fun in the Sun" series that includes educational renewable energy kits, space crafts, working paddle boats, and more all powered by solar energy. These items are popular as a unique gift option or a fun classroom activity. Just in time for outdoor events, Solaration also has baseball caps with solar-powered fans to keep you cool and solar-powered cellphone chargers to keep your smartphones running.
February and March are the perfect months to introduce solar products into your store as shoppers plan their spring outdoor activities and retailers get ready for summer sales. Now is the time to merchandise solar products, so you are prepared for the spring and summer selling season. Lily says, "Solar products celebrate and increase renewable energy awareness and make every garden and event special. Solaration products send blessings to our future generation." All of Solar Wholesale's products fall under their Solaration brand, which includes a one-year product warranty. To learn more about Solaration by Solar Wholesale and to place an order visit www.solarwholesaledirect.com.