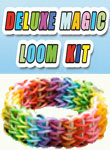 One of the biggest trends for kids this year is loom bands, a crafty, rubber band based jewelry that allows children to express their creativity. To meet the huge demand for loom band products, Quality Innovations Inc. has introduced several loom band options, the mother of which is the Deluxe Magic Loom Kit. This mega set contains 600 rubber bands in multiple colors, along with crystal charms and the loom. The kit wholesales for $6.50 and retails for $14.99.
"Children can make bracelets and necklaces by themselves," says owner Kerry Yang. "They can even make a little bag to hold the other items they create." Quality Innovations also offers individual units of tie-dye, glow in the dark and scented loom bands. Pre-made loom band bracelets in a variety of colors, including rainbow and pink, with a choice of charms, such as a heart, are also available.
This year's Silly Bandz
Loom bands will be among the most sought after holiday gift items on the market, Yang notes, and many well-known department stores like JC Penney, Wal-Mart and Target are carrying them. As a result, they are advertised on national television and children all over the country are asking their parents for loom bands. "They are going to be as popular with kids as Silly Bandz were a few years ago," Yang predicts. "We sold at least $13 million packs of those types of bands, and we think that the loom kit will surpass that."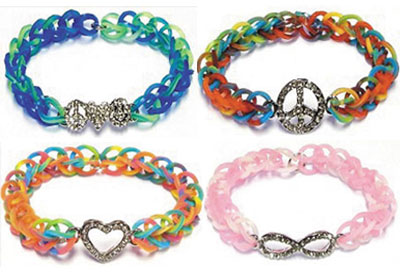 One Direction, light up novelties and Minecraft
Quality Innovations also offers a vast array of other merchandise that meets fast changing trends in technology, play patterns, fashion accessories and gadgets. The firm sells a variety of popular boy band One Direction themed items, including journals, pencil sets, sticker books and stickers. Other big sellers include light up products from barware to toys, and licensed products such as Super Mario and Minecraft. Smartphone accessories, zipper bracelets, plush and other novelties are also available. In addition, the company sells many "As Seen On TV" items, which offer retailers the bonus of national media exposure.
Quality Innovations' minimum order is one case of 50 units. The firm offers point of purchase displays with many of its products. Loom bands, for example, are produced on cards and can be delivered in a countertop display, or in pegboard bags.
Where to buy:
Quality Innovations Inc.
12941 Ramona Blvd., Suite D
Irwindale, CA 91706
Tel.: 626-380-6862
Website: www.qualityinnovation.net