By Jon Stine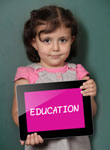 At Cisco, we work with many industry leading retailers and educators across the country to help them connect with consumers, students, parents and faculty. We watch closely any technology trends that show an increased adoption and what this means for our customers. Of late, we see infinite possibilities for the rapid adoption of digital education and the connected classroom across all grade levels to create a more engaging place for students.
What does the digital revolution in education mean to retailers?
Students and parents flocking to stores during the back-to-school shopping season are looking for consumer electronics that give their kids a competitive edge in the classroom. The National Retail Federation estimates that 55 percent of families with school-age children anticipate purchasing personal electronics during this year's back-to-school shopping. That is one in two shoppers. Retailers are recognizing this trend by offering more consumer electronics like laptop computers, tablets and mobile phones.
What does this back-to-school trend mean for independent retailers?
Smaller retailers that traditionally stock folders, pencils and crayons should not count themselves exempt from the digital revolution in education. There are huge opportunities for independent retailers to offer computer accessories and the peripheral items that back-to-school shoppers are looking for in addition to big ticket consumer electronics. Protective cases for laptops, flash drives, DVDs, printing supplies, adaptors and charging cords are the new school year essentials. These are exactly the kind of less expensive add-ons that parents and students will realize they need.
Retailers can merchandise items together, and even create pre-made bundles, so parents can walk out of their stores with everything they need.
Independent retailers also can connect with local education districts to find out what is on their schools' shopping lists. Retailers can merchandise items together, and even create pre-made bundles, so parents can walk out of their stores with everything they need. If you have a website, an omnichannel marketing approach can be as simple as linking to the local school's shopping list. You also can offer a pre-made back-to-school bundle on your website so parents can cross everything but the laptop off their list in one click. Shoppers are looking to scout out stores online before making purchases so be sure that your online marketing shows that you have all the supplies students in a digital age will need for the new school year.
Independent retailers do not need to forfeit their piece of the back-to-school pie just because shopping lists are evolving. Students will be using consumer electronics in the classroom and at home so use this shopping season to evaluate your inventory and ensure you remain relevant.
To learn more about Cisco, click here.