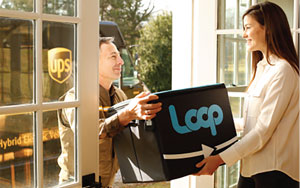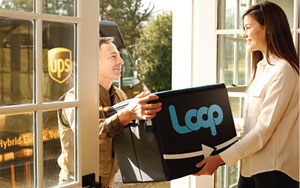 Companies are still fighting to go green, and Kroger and Walgreens are the latest to join in on a new recycling project. This state-of-the-art circular shopping system, named Loop, officially launched their pilot program in May of 2019 in the Mid-Atlantic region of the U.S. to lessen the world's reliance on single-use packaging, according to a TerraCycle press release.
First announced at the World Economic Forum in January, Loop enables consumers to purchase a variety of commonly used products from leading consumer brands in customized, brand-specific durable packaging that is delivered in a specially designed reusable shipping tote. When finished with the product, the packaging is collected, cleaned, refilled and reused, creating a revolutionary circular shopping system.
Loop is an initiative from TerraCycle, an innovative waste management company whose mission is to eliminate the idea of waste. Operating nationally across 21 countries, TerraCycle partners with leading consumer companies, retailers, cities and facilities to recycle hard-to-recycle waste. Loop provides customers this circular shopping platform while encouraging manufacturers to own and take responsibility for their packaging on the long term.
"Loop was designed from the ground-up to reinvent the way we consume by leveraging the sustainable, circular milkman model of yesterday with the convenience of e-commerce," said Tom Szaky, founder and CEO of Loop and TerraCycle, in the press release. "TerraCycle came together with dozens of major consumer product companies from P&G to Nestle to Unilever, the World Economic Forum Future of Consumption Platform, logistics and transportation company UPS and leading retailers Kroger and Walgreens to create a simple and convenient way to enjoy a wide range of products, customized in brand-specific durable and reusable packaging."
How It Works
Consumers can go to www.loopstore.com, www.thekrogerco.com/loop or www.walgreens.com/loop to place an order. The shipment will then come in Loop's exclusively designed shipping tote. After use, buyers place the empty containers into their Loop totes and go online to schedule a pickup from their home. Loop will clean the packaging so that each product may be safely reused to replenish products for more customers.
There are also a number of completely free recycling programs on TerraCycle's website, www.terracycle.com/en-US, where consumers can sign up for an account. Once the account is created, customers can collect the hard-to-recycle materials and either ship it or drop it off at a participating location.
There are numerous different free programs that can be used and each one is for a specific product. For example, one of the programs is the ARM & HAMMER® and OXICLEAN® pouch recycling program, which only allows participants to ship these used materials. Other programs include products for Barilla Ready Pasta, Beech-Nut, Burt's Bees and Brita, which can only be recycled in their specific programs. Being able to ship recycled materials or drop them off depends on each program.
How Retailers Can Participate
Right now, the Loop pilot program is available in New York, New Jersey, Pennsylvania, Maryland and Washington, D.C. If you are interested in creating a collection and recycling program for your non-recyclable products or packaging, TerraCycle has a wide variety of platform options. Typically, TerraCycle collects post-consumer waste from your key target consumers, cleans the waste, and then works with your brand to drive equity and value.
Some of the consumer product companies that are currently working with Loop include Unilever, Nature's Path, Nestle, SC Johnson, The Body Shop and Colgate-Palmolive, among others.
The Zero Waste Box Program
Another great way to participate in this go-green initiative includes the opportunity to recycle almost anything — for both your business and your customers. This special program helps you to recycle almost any type of waste, such as coffee capsules from your morning coffee or complex laboratory waste from your business, sending nothing to landfill or incineration.
To open the door for your customers into this program, you can order a permanent collection unit to house your Zero Waste Box. A permanent unit protects your box, can be styled to fit your environment or store, and offers an organized place to maintain your collections. TerraCycle can work with you to understand and accommodate your budget, styling, quantity and timeline needs.
No matter your recycling needs as a business, TerraCycle is willing to work with you. They also help with recycling at events in the case your store is holding a pop-up or other related events. Global warming is becoming a larger concern, and with these recycling programs, you can feel better about your impact on the environment as well as create customer loyalty if they can come back and recycle their products at your store. Happy recycling!