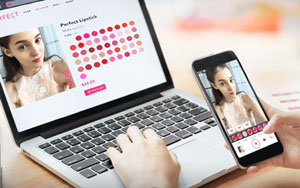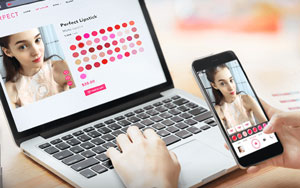 Step aside mass merchants, this one's for the little guys. Perfect Corp. recently announced the launch of the new 'YouCam for Web,' offering AR makeup try-on solutions for small and medium sized businesses, according to a press release. This feature will allow consumers to browse and test what cosmetic products would look like using augmented reality tools.
Many big beauty brands such as Sephora, MAC, Target and Estee lauder have similar AR makeup try-on solutions available for their customers. It can be more difficult and time consuming for indie retailers to invest in AR such as this, and that's why Perfect Corp. is making it a little easier for them.
How It Works
The new 'YouCam for Web' service is powered by YouCam Makeup's advanced facial recognition engine to offer brands the opportunity to integrate true-to-life AI and AR makeup technologies into their website shopping journey, according to the press release. Integrating this type of AR makeup try-on into ecommerce allows online shoppers to browse and try on a brand's product virtually before they buy.
"The implementation of virtual try-ons has completely reimagined the way consumers shop for cosmetics and we are so excited to create a self-service platform that will expand YouCam beauty tech solutions to even more brands," says Perfect Corp. CEO and founder, Alice Chang. "SaaS is the way of the future and YouCam for Web helps to cater to the growing needs of beauty tech solutions across all budgets."
Try Before You Buy
Over half of consumers say the biggest drawback of online shopping is not being able to touch, feel, and try a product, according to V12 data. Cosmetics is an especially difficult category to buy online because a certain shade of lipstick may look great online, but once a customer tries it on, the shade may change depending on their skin tone. It's a risk to buy online, but it's also convenient for consumers who don't live near a store.
Now, small e-tailers can give this convenience to their customers to be able to try before they buy.
The new 'YouCam for Web' service offers a free 30-day trial for brands to experience the benefits of virtual ecommerce try-on firsthand. This subscription-based service gives small businesses access to the Perfect Console, a private tracking dashboard where small to medium sized businesses can easily setup, deploy, manage and track analytics reports to seamlessly integrate AR virtual try-ons for their website, according to the press release.
How Much Will It Cost You?
Of course, the main worry independent retailers will have is the cost of this service. First things first, businesses have the option of being billed annually (365 days) or quarterly (90 days). The option to be billed annually will actually save retailers $1,200 a year at $499 a month as opposed to $599 a month for quarterly.
Secondly, indie retailers can choose from two different membership types: Essential and Premium. The Essential membership comes with all the basics for starting a new business. Retailers can offer virtual try-ons for lipstick, blush, skin smoother, before and after comparisons, the ability to take a photo of the look and download it, as well as some other features. This membership is $499 a month on the annual plan or $599 a month on the quarterly plan.
The Premium membership has a lot more to offer and includes everything a growing business needs. Customers can virtually try on everything in the Essential membership as well as eyeliner, eyeshadow, the ability to share photos and zoom in and out, along with other additional features. This membership costs $799 a month on the annual plan or $899 a month on the quarterly plan. You can find all of the pricing information online at: https://www.perfectcorp.com/business/plan.
By introducing YouCam's virtual makeup try-on technology into the consumer shopping journey, retailers can boost consumer confidence, increase user engagement, click-through-rate, and sales conversions for ecommerce, and decrease product returns. The service is a cost-effective, self-service solution to help small and medium sized businesses unlock these benefits of a virtual AR try-on service.