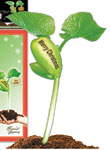 Though its newest products don't directly grow money on trees, The Patent Magic Plant's new Lotto Plant brings customers as close to the old saying as it's possible to get. The Lotto Plant allows tenders to grow their own lottery numbers, using the company's patented method of engraving on seeds in such a way as to create a plant with messages on it. In this case, growers could find themselves with winning lottery numbers growing up from the soil. "The beans grow with seven lucky numbers for your lottery use," explains Erez Hadad, owner. "It's good for convenience stores, supermarkets and any other stores that carry lottery tickets, because it appeals to the same audience. It gives you lucky numbers to use when you play the lottery, and makes a great gift for people who may have a hard time choosing what numbers to play." Hadad anticipates that the Lotto Plant will be a great seller for the holiday season.
The Patent Magic Plant has introduced a handful of other new flora in time for the holidays, the most festive of which is the new Merry Christmas plant. When water is added to the plant and it grows, the plant bids its owner "Merry Christmas," with an engraving on the plant itself. The third new product being introduced for this holiday season is a dried Ghost Chili Pepper, which is the hottest pepper in the world. Meant for eating rather than for growing, the Ghost Chili adds the maximum amount of heat to salsa or hot sauce. Striking fear in the hearts of even the most enthusiastic spicy food aficionados, the Ghost Chili makes an excellent gift for the adventurous cook, looking to put extra fire in food.
The Magic Plants, including the Lotto and Christmas plants and the new chili peppers, all cost $2 apiece wholesale, and retail from $5.99 to $9.99. Dried Ghost Chili Peppers are suggested to sell for $4.99 retail, and sell incredibly well with a markup of around 200 percent, says Hadad. The minimum order is $100 and all orders ship the next day. Products feature unique packaging that is both attractive and vacuum sealed, which allows retailers to promote the plants for having a two-year shelf life, according to the USDA. For every dozen plants purchased, there is an accompanying pop-up display box. "Every order ships with free fliers and catalogues, but we also offer a CD with a video clip on it," Hadad adds. "The video clip helps boost sales dramatically, because it shows customers what happens with the plant." The company sells to several thousand independent retailers, souvenir stores, hospital gift shops and convenience stores.
For more information:
The Patent Magic Plant
P.O. Box 2472
Johnson City, TN 37605
Toll free: 877-801-9733
Tel.: 423-963-9893
Website: www.thepatentmagicplant.com