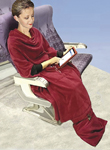 Fashion designer Yon O Chang was a frequent traveler with a problem: she spent a lot of time on airplanes, shivering under the thin blankets the airlines offered, and then waking to find the blanket lying on the floor at her feet.
She decided to do something about it and designed the blanket she wanted. The result is the Yon Smart Blanket, a wearable, three-in-one blanket that provides full mobility, doesn't slip off, and keeps you warm from head to toe.
"My blanket is different because it's very smart," she says. "It has all the features you need in a blanket. There is a detachable foot warmer. It doesn't have long sleeves that will limit your mobility. And there's a little hood made from a lighter fabric you can pull over your head, with a mouth hole for breathing." It also features a front pouch "for all your goodies."
Unlike similar products, the Yan Smart Blanket slips on over your head, making it impossible for the blanket to slide off while you're wearing it. Then, when you're done, it's easy to slip off, roll up, and slide back into its pouch.
"You don't even have to fold it," Chang explains. "You just take it off, roll it up, and it goes back into the pouch."
Introduced in 2013, Chang's early customers included nursing home suppliers and even retailers of camping supplies because it's so versatile. The Smart Blanket, she says, is great for dozens of settings, from offices to airplanes and libraries and even outdoors. "You can be covered from head to toe in comfort and privacy," she points out.
All Yon Smart Blankets are made in the USA with premium fleece. The company also offers a Smart Doggie Blanket that will protect your dog against inclement weather, as well as Yon Design clothing andart travel scarves.
How to Buy Products
Yon Smart Blankets come in two sizes, small-medium and large-XL. They are available in five colors, with navy blue and burgundy as the most popular colors. According to creator Chang, they are especially popular with men and work great in gift shops and apparel shops.
There is a minimum wholesale order of 12 units. Wholesale customers can pick their preferred colors. Custom colors are also available for high-quantity orders—call the company for more information regarding custom colors. Yon Smart Blankets are priced at $24.50/unit wholesale. The MSRP is $49.95/unit.