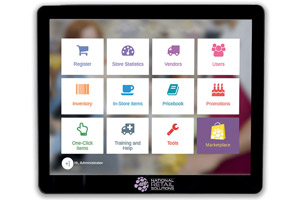 by IDT / NRS
The past 12 months have been trying for groceries, c-stores, and gas stations. National Retail Solutions (NRS) is continuously carrying forward its commitment to helping independent businesses succeed. Below are tips for growing your business and enjoying a prosperous 2022:
Renovate and Upgrade to a Powerful POS
Renovations and upgrades to your store are important for keeping current with aesthetics and technology. Small changes can make a big difference in your ROI, and a new POS can help grow your business. According to Elie Y. Katz, founder and CEO of National Retail Solutions, "Small, independent merchants struggle on small budgets to keep up with big-box stores. NRS was founded with a mission of helping Mom 'n' Pop retailers successfully compete and thrive. We provide affordable hardware and powerful software with all the bells and whistles to give retailers an edge over their competitors."
Invest in Your Business and Reap the Benefits of ROI
NRS Funding offers a robust cash advance program for $2,500-$500K. A cash advance can be used for any project, and you can even put some money away for a rainy day.
Organize Your Store
The NRS POS helps organize your store, offering strong inventory and sales tracking, as well as a remote app and web portal for 24/7 monitoring.
Integrated Credit Card Processing
Integrated credit card processing offers safety and compliance and saves time in accounting reconciliation. NRS Pay integrates seamlessly with the NRS POS. With NRS Pay, you will receive a free credit card with zero hidden fees, no long-term contract, and no early termination fee. NRS Pay FeeBU$TER is 100 percent FREE if you process over $18K/month.
Protect Your Gas Station from Fraud & Increase Revenue
Own a gas station? NRS Petro offers an efficient, convenient fuel pump-integrated POS for your c-store, as well as clean, affordable pump-EMV compliance. Installation requires no messy renovations or business downtime.
Ecommerce
Starting a digital marketplace is easy if you have an NRS POS system. NRS offers ecommerce, with a store website and consumer shopping app that link into your POS.
Customer Loyalty
The NRS POS features a free, built-in loyalty program that includes a key fob to scan and receive instant savings at checkout. Plus, a business can market promotions on the NRS POS' customer-facing screen.
Offer EBT and EWIC
Customers that come in to shop for EBT items will likely purchase non-EBT products as well, increasing your revenue.
Tobacco Scan Data
Scan Data programs include buydowns and discounts from major tobacco manufacturers based on monthly sales volumes. NRS Tobacco Scan Data offers this program — hassle-free for store owners.
POS Premium Features
A POS system should offer more than just a bare bones cash register. The NRS POS comes with many built-in features to save time and increase your revenue. Popular add-ons include DVR Cam Integration, Employee Time Clock, Advanced Data, eCommerce, Customer Tab, Modifiers, Government ID Scanning, Loyalty and more.
For information on starting your win-win journey with NRS, call 833-289-2767 or visit nrsplus.com.