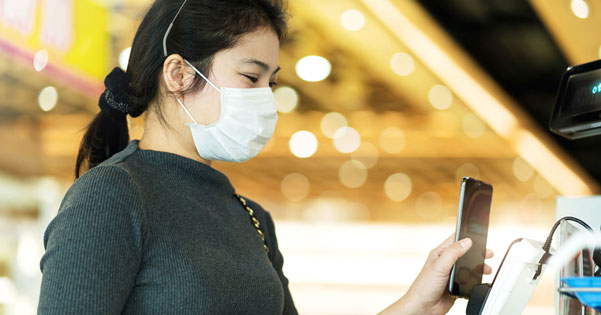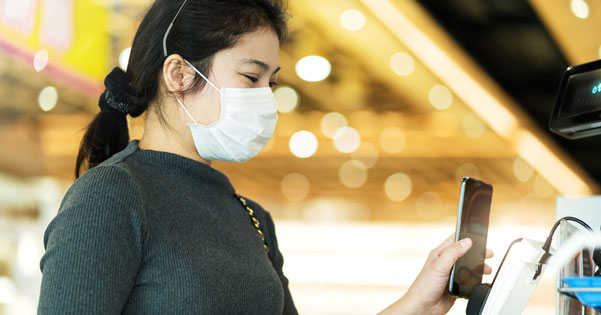 by Chad Halvorson
This year's holiday shopping season will be, without a doubt, the most unusual in memory (thanks to COVID-19), and brick-and-mortar store operators now have more to focus on than ever – from the perpetual generation of enough revenue to stay afloat another year to keeping consumers and employees safe from coronavirus infection in-store.
While customer traffic statistics and revenue projections are still evolving, we do know that hourly employment in the retail sector is steadily increasing as the retail industry gears up for end-of-year shopping. Consequently, retail operators need to be even more vigilant about keeping their workers safe during the busiest season of the year. Fortunately, several touchless tech resources are easily accessible and affordable, and can go a long way toward protecting employees and, ultimately, your customers.
Contactless Time Clock
Retailers of all sizes need to rethink practices that put numerous employees in the same physical space or require them to physically interact with the same pieces of equipment multiple times a day. An effective place to start is to convert from a communal time clock to a contactless or personal one that, essentially, puts a time clock in every employee's pocket and allows them to punch in and out of work from their own smartphones or other mobile devices. This helps to eliminate gatherings at a centralized time clock and communal interactions with the same device.
These mobile and cloud-based time clocks also offer additional benefits to employers, including:
Prevent early clock-ins or late clock-outs
Use of geofencing to ensure employees are clocking in only when they are on premise
Reduce buddy punching – when an employee punches in for another employee. (Employers lose millions to buddy punching, according to the American Payroll Association.)
Save time from store managers having to manually enter timecard data into payroll systems
Flexible Self-Scheduling
Posting a static, paper-based schedule in one common spot forces employees to gather in the same place to see when they are going to work. Some employees might even have to come back repeatedly when the schedule changes or to request time off. Avoid this risky practice by switching to an online or mobile employee scheduling app so work times can be set up, changed and accessed via each employee's mobile device.
Scheduling apps also support retailers with hourly employees in implementing a practice called flexible self-scheduling — an approach to creating work rosters where managers define scheduling needs based on customer demand, while allowing employees to select, trade and fill shifts themselves. Flexible self-scheduling enables managers to create schedules faster, with less effort, and gives hourly employees more control over their work life.
Data shows that workplaces using flexible self-scheduling resolve scheduling and coordination issues 20 percent faster than those who do not. In fact, adaptive approaches like flexible self-scheduling have been heralded as the future of work by Forrester, and a study by the University of California Hastings College of the Law shows that it can actually increase productivity and sales in the competitive retail sector.
Assisted Contact Tracing
If an employee becomes sick with COVID-19, an employer needs to quickly determine with whom that person worked or came into contact over the previous 14 days. We are all hearing more about contact tracing — the process of identifying and notifying people who may have come into contact with an infected person. Retailers with an hourly-based workforce can use employee scheduling and time tracking software to assist with contact tracing efforts by reviewing shifts and time punches that overlap amongst employees.
Team Communication
Keeping your workers informed is essential in today's rapidly changing health and market environment. Moving all non-essential in-person communication to a messaging app (preferably one that lives within your contactless scheduling and time tracking tool) means employees can have a direct line to their co-workers and store managers without risking infection. Discussions about schedule changes and shift trades, as well as reviews of daily task lists, can all be handled via mobile app.
Chad Halvorson is the Founder and Chief Experience Officer of When I Work, a complete employee management platform used by over 150,000 workplaces that ensures restaurants have reliable shift coverage, engaged employees, and can make faster decisions through integrated scheduling, time tracking, and team messaging.