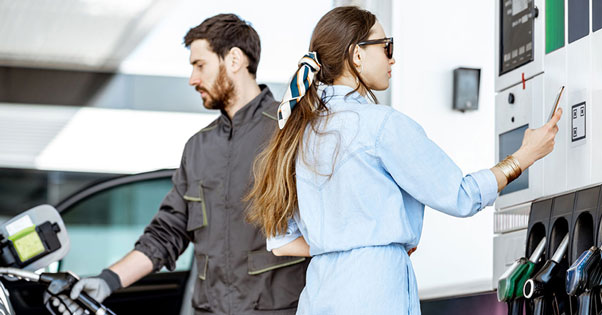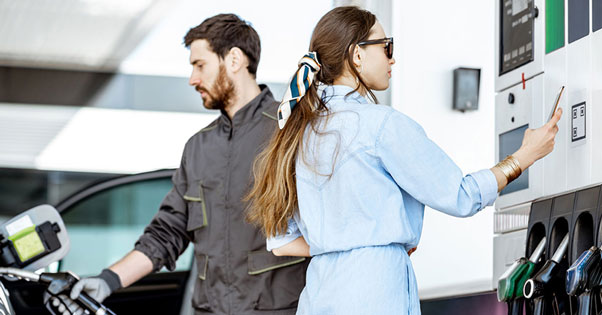 by National Retail Solutions
Yet another EMV regulation, this one with a potentially massive price tag, is coming to service stations in April 2021. Fortunately, National Retail Solutions (NRS) has the most cost-effective solution available: NRS PETRO. With the NRS EMV EZ Pump, NRS ensures that gas station owners can conveniently forego costly upgrades and retrofits to their pumps, while adhering to EMV 2021 regulations to help reduce fraud.
New Regulations
The new compliance requirement requires EMV credit card readers at the pump to accept EMV chips. Swipes or manual key-in will no longer be sufficient for fraud protection. Those who fail to comply, will no longer be protected for fraud and chargebacks. The onerous prospect of rebuilding or retrofitting pumps, complete with digging and construction work that can keep gas pumps offline — if not an entire service station, for days — can be unnerving for gas station retailers. For service stations, especially those independently owned and operated, prolonged downtime means hemorrhaging profits.
This is where NRS PETRO steps in. NRS PETRO uses new technology to retrofit and upgrade existing pumps for EMV compliance, rather than time-consuming and expensive renovations, ensuring business continuity and peace of mind.
For gas stations which have an adjacent minimart, NRS PETRO offers an all-in-one checkout solution. The NRS PETRO POS system allows stations with minimarts to integrate their store sales with the pumps, so gas stations can easily ring people up for their purchases in the store, as well as at their gas fuel-up outside.
Full Package
The NRS PETRO POS offers many overt advantages. Its robust hardware and powerful point of sale software is custom-built to help gas station c-stores be more organized, connect with the pumps, attract customers, and increase revenue overall. The NRS PETRO POS offers a Tobacco Scan Data program for resellers of tobacco products to benefit from buydowns and cash rewards from Altria/Phillip Morris and RJ Reynolds. It also integrates with ID License Scanning for age verification. In place of the manual process of checking IDs, the special JUUL RACS-compliant scanner captures vital information. Additional useful POS features are available as well.
NRS PAY credit card processing is a strong part of the NRS PETRO ecosystem. Both, the NRS EMV EZ Pump and the NRS PETRO POS come integrated with NRS PAY. For use with the NRS POS in the minimart, NRS PAY provides a free credit card reader with a few competitive, low processing rates to choose from, for 24/7 seamless transactions.
Elie Y. Katz, president and CEO of National Retail Solutions, said "NRS was founded, over 5 years ago, with the mission of providing a point of sale solution to help independent retailers survive and thrive amidst Goliath competition. We followed this with NRS PAY credit card processing, with a promise to bring integrity and much-needed transparency to the credit card processing industry, no hidden fees and no surprises! Now, along the same commitment of helping retailers, we offer a unique, affordable solution for EMV compliance. NRS PETRO is marrying our NRS family of products into independent gas stations."
Better for Your Business
NRS PETRO can not only greatly reduce costs for compliance with the new April 2021 EMV regulations, but it can also increase profits. The combination of an outdoor pump EMV solution with a fast, reliable point of sale system and integrated credit card processing is unbeatable. Reducing visitors' time spent at the service station makes for happier customers, and happier customers become loyal customers.
As Eric Goldberg, VP of NRS PETRO, explains in the backstory of NRS PETRO, "There is a lot of unnecessary fear about the upcoming EMV compliance requirements. Gas station owners have been procrastinating with upgrading for EMV compliance at their pumps, due to the popular belief that exorbitant fees and downtime are required. We are excited to offer a solution that won't cost these retailers nearly the dollar amounts that traditional EMV upgrading can run. Our solution is clean and painless."
With its affordable solution to upgrading pumps for EMV compliance as well as a reliable checkout solution for gas station convenience stores, NRS PETRO is already putting gas station merchants' minds at ease and fast gaining popularity in the independent petro retail arena. For more information, visit nrspetro.com or call 888-260-0112.