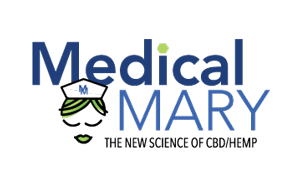 The CBD revolution is in full swing. More and more research points to the real, quantifiable health benefits of taking a daily dose of cannabidiol. It's no wonder why countless CBD manufacturers have entered the market trying to capitalize on the vast potential of hemp.
Unfortunately, many of these suppliers are cutting corners and making false claims about the quality and potency of their product. This puts retailers in a difficult position, and store owners want to be able to stand behind the products they sell. They take their obligations to their customers' well-being seriously. But how can you know which supplier to trust?
The answer has become easy. Introducing Medical Mary CBD. In the CBD space, trust is king. Retailers all over the country know that Medical Mary puts quality, honesty, and science first. They're a family run business that believes deeply in the power of CBD to change the world for the better.
Unlike other companies, Medical Mary oversees the entire manufacturing process from farms to shelves. What does that mean? As Norman Bean, owner and CEO of Medical Mary likes to say: "It means what you see on the label is exactly what you're getting in the product. Guaranteed."
And if you need reassurance, the company proudly makes its third-party lab tests available on their website for anyone to see. www.medicalmary.com/lab-results
Why Medical Mary is the Best You Can Get
Here are just a few reasons:
Their products are formulated by pharmacists in FDA registered labs.
Their plants are sourced from generational farms in Kentucky and Oregon.
Each batch is refined using a proprietary Supercritical CO2 method until the extract reaches 99.8 percent purity.
Fastest wholesale turnarounds in the industry.
Not only that, Medical Mary offers an astonishingly wide range of CBD products, including bath bombs, tinctures, sports recovery products, pet treats, beauty products, just to name a few categories. And because they operate at a national scale, they can offer the best price points you'll find in the market.
The Nutraceutical Edge
Medical Mary is also the first and only CBD supplier to offer CBD products enhanced with potent, all-natural nutraceuticals. They pair premium CBD with plant-based ingredients that allegedly help with specific health concerns such as weight loss, blood sugar balance, hormone health, sleeplessness, and more. Each formulation is thoughtfully balanced to amplify biological synergy and produce real health results. The company's commitment to wellness innovation is matched only by their drive to help as many people around the globe as possible.
Private Label
If you're thinking about starting your own CBD retail company, Medical Mary makes it easy. They help with everything from designing your logo and label to creating your own customized formula, which you can then reserve for your new company's exclusive use.
As Norman says, "We provide you with a turnkey business model. Our Private Label and branded products are on the shelves of thousands of retail stores across the country. You'll find them in convenience stores, retail stores, doctor offices, pet stores, fitness/yoga/pilates studios, gyms, and many others places. Medical Mary offers the best selection, the best products, and the best value on the planet with handsome margins for you to start offering your customers today."
Medical Mary
Tel.: 833-633-6279
Web.: www.medicalmary.com
Facebook: Medical Mary CBD