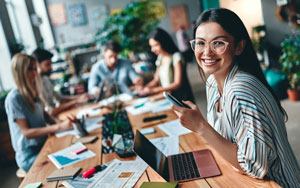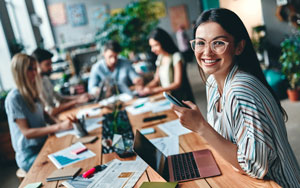 by Tom Ertler
Generation Z has been described as many things — avid gamers, Snapchat aficionados and tech addicts. Born roughly between 1995 and 2010, this cohort, also known as centennials or post-millennials, has emerged on the retail scene as a force to be reckoned with.
Recent research shows that, although it has yet to reach prime earning years, Gen Z is projected to represent 40 percent of all shoppers, influencing $600 billion of spending in this year alone. Members have never lived in a world without the internet or mobile phones and can buy just about anything online. And yet, Gen Zers are more likely to shop in a brick-and-mortar store than the generations that have come before them.
To attract these up-and-comers, retailers must make the in-store experience aspirational, "cool," relevant and worth the trip. If they don't, Gen Zers will likely choose to buy online or shop at stores that do a better job catering to them and their growing pocketbooks.
Craving the In-Store Experience
A study released by IBM and the National Retail Federation found that the first digitally native generation prefers shopping in physical stores rather than online: 67 percent shop in brick-and-mortar stores most of the time, with another 31 percent shopping in-store sometimes. And with smartphones at the ready for research and friends' opinions, members expect shopping in stores to be personal, interactive and memorable.
One born-digital retailer that attracts Gen Zers (and Millennials, too) is beauty brand Glossier, which has a roughly 2.7 million strong following on Instagram alone. Although most of its sales are done online, Glossier has opened physical stores in New York City and Los Angeles with social media-worthy in-store designs and creates hype with temporary pop-up stores, too. These pop-ups have ensnared such a cult following, in fact, that the London location has decided to keep its doors open through the end of the year (versus the planned couple of months).
Modern-day shoppers enjoy the tangible interaction and sensory experience that physical stores provide. Bathed in the brand's signature pink, the stores are filled with aromatic, testable products, flowers and mirrors — a backdrop for the must-have selfie. The brand has successfully increased foot traffic because it encourages (and thrives on) social sharing and offers a fun, immersive Gen Z-worthy experience.
Drawn to Brands with Similar Values
Generation Z is a group passionate about companies that share their values, whether they advocate for inclusiveness, diversity, sustainability or another initiative. Research shows 75 percent of this cohort is more likely to shop with retailers that take a stand on issues they care about or reflect their social or political values.
A report by McKinsey & Company concurs, saying Gen Z-ers expect brands to take a stand on specific topics of their choice and then stand behind those issues. Reformation, a retailer that sells sustainable women's clothing and accessories, is popular among this generation because sustainability is at its core.
Reformation's Los Angeles stores and headquarters, for instance, are Green Business-certified, meaning they employ strategies to save energy, reduce water use and decrease CO2 emissions. The stores are outfitted with LED light fixtures and insulated with recycled fabrics, which are hypothetically better for the environment and for shoppers' health. This transparency into its practices has solidified the brand a favorite among Gen Z-ers and helped capture their wallet share too.
Wanting an Integrated Digital and In-Store Experience
Generation Z, described by Business Insider as the largest and most ethnically diverse generation in American history at 27 percent of the population, expects the brands they shop to offer a seamless experience from every touchpoint. They want to be inspired by what they see on social posts and the company website and expect a unique, personalized experience when visiting a physical store.
One brand that attracts this generation in droves is Urban Outfitters, which has been dubbed funky and boutique-like. Immersed in an industrial atmosphere with concrete floors and racks made of metal pipes, young shoppers browse through vintage high-waisted jean shorts and boho-chic outfits. With 8.3 million Instagram followers and 10 million UO Rewards members worldwide, the brand incentivizes shoppers to queue up and buy through exclusive offers, early access to sales and extra perks – and integrates the online and in-store experience seamlessly.
Buying Power on the Rise
Generation Z enjoys the social interaction and interactive experiences that many brick-and-mortar retailers offer. The most successful brands create atmospheres pointing to lifestyles this group aspires to and allows seamless shopping, regardless of the channel.
"What gets them coming into the store is carrying brands specific to their age and having labels that celebrities and influencers are wearing," said Patrick Wallace, a retail stylist who's worked in visual merchandising for 30-plus years. "And if they walk into a place that's buzzing with excitement — say a celebrity in-store appearance or another special event – shoppers are more apt to get caught in that excitement and buy."
Retailers looking to tap into this young generation of shoppers should also consider standing behind a certain issue and then interweaving that stance throughout a physical store.
Although many have yet to enter the workforce, Generation Z's buying power — substantial already — will only get larger. And retailers want to be sure they're attuned to the group's wants and needs.
Tom Ertler, LEED AP SVP Creative Director at Miller Zell . Tom is a retail designer and creative director focused on brand development, graphic communication, environments design, and implementation (A&E). His career spans over 30 years and is distinguished by industry awards and, more importantly, industry results for some of the best-known brands in the world as well as emerging brands.