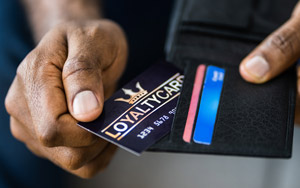 Retailers have been using loyalty programs to turn new customers into returning shoppers for years. In 2016, the consumer loyalty management market was valued at almost $2 billion. By 2023, that figure is expected to reach nearly $7 billion — an annual compounded growth rate of nearly 21 percent. In the U.S. alone, consumers now collectively hold more than nine billion loyalty program memberships.
Loyalty Programs Are Becoming Less Important
While these figures may seem tempting, the problem with loyalty programs is that they do not generate loyalty. A 2012 benchmark study from Edgell Knowledge Network, which surveyed the loyalty programs of 60 retailers, found that customers of retailers that offer a loyalty program were not recognizably more loyal than customers of those that do not. According to the same study, 81 percent of loyalty program members do not even understand what their rewards entitlements consist of or how they are redeemed.
Instead of wasting money on loyalty programs that do not even generate loyal customers, retailers have recently been turning to membership models. "In 2022, we will see loyalty programs move to the wayside as brand membership becomes increasingly important. Customers have seen themselves as 'members' of brands for years, choosing one retailer over the rest when it comes to everything from clothing to makeup to sneakers. Brands that embrace membership models and provide value that consumers want to pay into, will drive more customer loyalty than loyalty programs themselves. For every year that goes by without a membership, brands risk losing customers to competitors that do," Jay Myers, VP of Growth and Co-founder of Bold Commerce, said.
The Difference Between Loyalty & Membership Programs
Let's start with the basics: the main difference between loyalty programs and memberships is the difference in marketing strategies, according to Myers. Loyalty programs use push marketing, while memberships focus on pull marketing. Loyalty programs are brands trying to 'push' their rewards program on shoppers, with the goal of incentivizing them to spend more. On the other hand, membership is a customer's 'pull' to a brand regardless of (and sometimes without) meaningful, remarkable experiences. Consumers crave membership and community, but no one has ever craved to be part of a loyalty program.
How to Make Your Membership Model Appealing to Customers
"Brands need to take a step back and think about what their membership program is about," Myers said. "Forget 'loyalty points' for a moment and think about the other potential value and benefits members might experience by joining. Retailers can provide customers value through a variety of different benefits including exclusive access to products, content, offline events, partner discounts or promotions, access to founders through virtual Zoom calls, or inroads to specific communities or VIP member pricing. When brands find ways to layer substantial value into their membership other than just rewards points, it creates a program so compelling that it will never need to be pushed onto customers — they will come asking for it and be willing to pay."
If your business already has a loyalty rewards program, this does not mean you have to get rid of it entirely and start from scratch with a membership. The best approach is to simply take your existing loyalty program and add as much value to it as possible. Start thinking about what you can offer to make it compelling so customers will pay to join. Points and rewards should be a part of a membership program — what is key is that they are but one part of a robust membership.