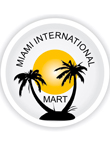 The Miami International Mart show brings to you the best in general merchandise, food, health & beauty, and much more. Show owner Shaul Hadad strives to take the headaches out of supply chain management for retailers. His show brings hundreds of categories and tens of thousands of products at your fingertips. Miami International Mart is a busy and well-organized show with a spacious showroom.
Situated in the trade hub of the Americas, the Miami International Mart trade shows are here to help you expand your business or build the one you've always dreamed of. While there are other trade shows in Miami, this show offers high quality, low prices, and most importantly, reliability. Exhibitors at Miami International Mart have warehouses and showrooms all over the country, and with between four and five shows each year, this show serves as their permanent Miami showroom.
Miami International Mart brings together products from more than 50 categories including apparel and accessories, housewares, linens, kitchenware, closeouts, and much more. Mart of Miami prides themselves on their overall relaxed feeling, all while offering a productive venue for buying and selling. "Our show is busy without being overwhelming. Buyers get the one-on-one attention they need and enough time to negotiate and buy with detail," says Hadad.
The next Miami International shows will be held September 17th – 19th and November 12th – 14th. Buyers can register online in advance at www.martofmiami.com and check out the additional show details.