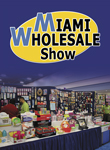 For the last half a year, representatives of the Miami Wholesale Show have logged a mind-boggling number of miles, according to company President Michael Finocchiaro. "Our executive committee has traveled through almost all the countries in South and Central America and the Caribbean to promote our 6th annual show," he recounts. "We are working with more than 1,000 travel agencies to promote the shows."
The Miami Wholesale Show positions itself as the essential show for retailers in the Southeast US, Caribbean, and the Americas. Until last year, it was known as the Asia-America Show, but changed its name to reflect its tight focus on attracting buyers to the Miami Beach Convention Center for one of its two annual shows. "We have more than 30 years of experience doing tradeshows in South Florida," Finocchiaro says. "We have developed an expertise in using Miami as the hub of the Americas. We utilize the infrastructure in Miami for banking, shipping, freight forwarders, and customs brokers."
Overall, Finocchiaro estimates there will be about 7,000 buyers at each of the company's shows, representing more than 20 countries throughout the Americas, with about 200 exhibitors. The show is an all-purpose show, with exhibitors in general merchandise, apparel, home goods, electronics, liquidation, and other product categories.
Designed for Wholesalers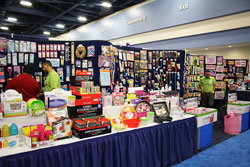 The Miami Wholesale Show runs twice a year in Miami Beach, just east of downtown Miami. Show dates include April 21 to 23, 2015 and September 27 to 29, 2015. Although both shows are geared for wholesaler buyers, there are some crucial differences. The April show is only open to wholesale exhibitors, while the September show is open to both wholesale exhibitors and manufacturing companies. The company decided on this so wholesalers would not have to compete against their own manufacturers at the same show.
Online registration is available for both shows. Attendance for qualified buyers is free as long as they register before the 15th of the month in which the show is scheduled. Attendees can also pay a small entrance fee at the door. Attendees must show a business card or some other proof they are in retail to get into the door. Attendees can arrange hotel accommodations through the Miami Wholesale Show.