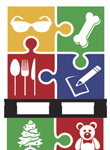 "Our show is specific," says Midwest Market Days tradeshow manager Joanna Kastle. "Our buyers come to see familiar vendors to get great prices and replenish merchandise." Known for outstanding product deals and showcasing hundreds of retailer favorites, Midwest Market Days is held in Chicago seven times per year, easily fitting into busy retailer buying schedules.
Midwest Market Days is different from other trade shows in that it is a joint effort between groups of vendors. "We operate more as a co-op than a traditional show," explains Kastle. Each event offers buyers the opportunity to browse multiple showrooms packed with top-notch wholesale vendors, and a free shuttle service is available to buyers who choose to visit more than one showroom.
All seven annual shows are exclusively order writing for buyer convenience. Each show includes a wide variety of over 50 vendors offering the latest in merchandise categories including collectibles, craft and hobby, electronics, accessories, gift, health and beauty, home décor, jewelry, lawn and garden, licensed products, smoking, party, paper, textiles, and toy products. Additionally, many of the vendors offer imported and closeout goods. "Our whole industry is about having to see the products in person," says Kastle. "It's important for buyers to come and see the merchandise before ordering. Our vendors have a full display laid out nicely."
Buyers remain loyal to Midwest Market Days not only because of the wide variety and high quality merchandise offered by exhibitors, but also because of the first class service provided by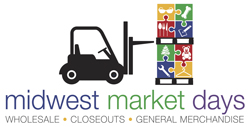 event staff. "Each buyer is greeted personally by trade show staff," says Kastle. "Buyers are supplied with a detailed exhibitor list, showroom floor plans and other show-related materials to make their experience easy and comfortable." Complimentary breakfasts and lunches are served daily for all attendees to make the experience as hassle free as possible.
Midwest Market Days next show is June 27 – 28. The other remaining 2016 dates are September 8 – 9, October 27 – 28, and December 5 – 6, 2016. To find the upcoming 2017 dates and additional show information, please visit the Midwest Market Days website at www.midwestmarketdays.com.