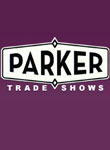 Parker Trade Shows are boutique cash and carry events that focus on providing a variety of quality products to retail buyers, with a particular focus on their local area. "We compete on a national level," says Rock Jacobson of Event Show Management, parent company to Parker Trade Shows. "San Antonio is the 7th largest city in the country. Our thought is if we are in one of the top cities we should have one of the top shows in the country. Texas gets 20 million tourists per year. 1,600 people move to Texas every day. When people need inventory we want them to think Parker first."
Offering a wide assortment of accessory, gift, footwear, home décor, and beauty products, the shows also have a keen awareness for upcoming trends in jewelry and apparel. The shows, at approximately 150 vendors, provide a welcoming, intimate environment for buyers and the outstanding quality of the vendors and merchandise allows buyers the selection and choice otherwise only seen at much larger shows. "Our attendance will be between 7,000 – 9,000 buyers for our July show," Jacobson adds. Exhibitors include "leading manufacturers of trendy ladies' apparel, home décor for all seasons, and manufacturers who have lines exclusive to the Parker shows," continues Jacobson.
Buyers can rely on the consistency of Parker's exhibitors from show to show. "We have one of the highest retention rates for vendors," explains Jacobson. "We've strived for a long time to bring in the best in the industry. Our core group of vendors continues to bring in the hottest trends season after season."
In addition to providing a wide selection of in-demand products, Parker aims to host a fun and memorable event. "A lot of shows focus on selling booth spaces," says Jacobson. "We focus on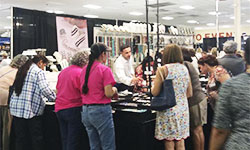 providing a great experience." New for this year, Parker has sectioned their show floor by merchandise category, making it simpler for buyers to find their preferred merchandise. "We are expanding in every direction and we want to stay organized," explains Jacobson. New sections include Heath and Beauty, What's Hot for new trends or cutting edge products, and a Gourmet section for newly added food and candy exhibitors. "Some of our regulars who attended in March were taken aback – it's a completely new experience," Jacobson continues. The entire show building has been carpeted for a more comfortable environment and there are aisle signs to help guide buyers.
During a recent show, the Parker team debuted an instant hit with buyers: a fashion show. Parker staff coordinated with the local fashion school to bring in models that worked directly with vendors to put together outfits including apparel, bags, and accessories, all showcased to buyers in a fashion-show format. "Buyers loved seeing the items put into practice. For a lot of them it brought products to their attention that they might not have noticed otherwise," notes Jacobson. As a direct result of the positive buyer feedback, Parker plans to continue the fashion shows at upcoming events.
Adding to the fun atmosphere of the show, Parker hosted a balloon drop at their most recent show. "We really wanted to do something that would excite people, create an experience everyone would remember, and encourage them to come back," says Jacobson. "We dropped 750 balloons with prizes attached to them at the end of the show," he explains. Prizes included Parker Trade Show bucks that can be redeemed at the show, free drinks at the lounge bar, and more.
Not content to stop there, Parker is also reworking their show schedule to best fit the needs of their buyers. "Typically our summer show is in June," explains Jacobson. "This year we moved it to July to avoid Fathers' Day and graduations. We cater to a lot of beach communities so right after 4th of July weekend is also a great time for stores to restock." Parker's next events take place July 8 – 10, September 16 – 18, and the holiday prep season show running November 18 – 20. All events are hosted at the San Antonio Event Center.
Shows are open to certified buyers only. Three forms of credentials are required for admission including a resale certificate or tax ID and two other forms of identification such as a business card and business check or credit card. To avoid lines, retailers can mail in or email their credentials in advance. An admission badge will then be mailed for speedier entrance. Parker works closely with all of the hotels in the area to negotiate low rates. Jacobson recommends buyers come and see the show for multiple days instead of trying to fit everything in one.
For more information including advanced registration and hotel deals, visit www.ParkerTradeShow.com.