by Margie Kupfer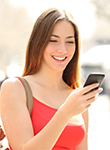 Summer is one of the best times for retail businesses to get new customers. Millions of people are out on vacation, which means there are more opportunities for spending than on regular working days. This, in turn, represents an opportunity for retailers to offer exciting promotions, discounts and sales to bring in new customers who are out to shop for summertime fun.
As part of a strategy to target consumers, many retailers are considering more mobile marketing campaigns for the vacation season. More people will be outside their work or office environments, relying heavily on their mobile devices and smartphones for connectivity and engagement. As mobile usage continues to rise, stores that leverage this channel in their marketing efforts will reach and capture new and existing customers directly in the most effective way.
Popular product categories that will profit the most in the summer season typically include clothing, travel items, tourism and souvenirs, outdoor, entertainment, and local goods.
Launch new offers to push mobile-driven sales
Retailers that do not have a mobile app or a responsive mobile website are potentially driving away a significant number of customers to their competitors who are hungry to capture summertime market share. Several top-level brands have released summer-specific offers and incentives for mobile users to encourage more participation and build mobile traffic. For example, 7-Eleven launched a multichannel summer campaign using a combination of SMS, mWeb, social media and mobile advertising aimed to drive in-store traffic for their guests constantly on-the-go. The strategy is to build themed campaigns that playfully engage with consumers in vacation mode as a way to connect and build mind share.
Utilize your social media channels to boost sales
Social media integration with mobile gives users the ability to quickly share their precious summer experiences. Even if a portion of products or offers is shared, brands get an increase in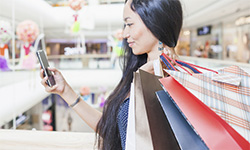 impressions, which may lead to additional sales generation. Sharing summer content on social media has become a reliable way for stores and brands to acquire and engage their customer base. Most recently, one of largest summer campaigns, "Share a Coke," features a new social sharing opportunity that lets fans scan lyrics on specially marked bottles, then record a video to share on social media.
83% of consumers say they trust friend and family recommendations more than any other form of advertising. Offering sharable content enables customers to share mobile moments on their desired social channel, which in return promotes your products and services through powerful word-of-mouth marketing.
Connect promotional deals with customer demographic and current trends
Personalizing messages boosts purchases, app opens, and other conversions by 27.5%. By associating your offers with the latest trends and events, you can go a long way toward connecting with your customers. Nowadays it is possible to create targeted mobile moments for different kinds of customers based on their preferences, demographics and event interests, making it personal to each individual. For example, when the summer Olympics kick off in Brazil, brands will offer special promotions on red, white and blue products, as well as campaigns directed at popular events such as swimming, running and basketball.
What's more, mobile strategies should also be integrated into traditional marketing. For example, retailers flying banners above the beach should tweak their banner messaging to also include calls to action that direct beachgoers to text a specific code for additional promotions. By staying in tune with what consumers are interested in at the moment, marketers will be able to create more targeted content that will be more effective.
Use geographic location and time to focus marketing efforts
It is no surprise that during the summer consumers will flock to fun tourist destinations. If your business has more than one location, try and focus your marketing efforts on the location that will be the most popular during the summer season. If one store is near a lake or beach and one is in the middle of the city, the location near the water may be the better bet. If you have one location, but happen to be near a tourist destination, plan on boosting your marketing efforts at this time of year.
Not only is location important, but also the time of day in which you focus your mobile marketing is vital. During the summer, it is more likely that people will be on vacation and not stuck in their offices. Kids will be out of school as well. That means that mobile marketing campaigns can be expanded beyond typical workweek hours.
Timing is everything
Think about the timing when planning your marketing strategies. Make sure that the promotions you are sending out make sense on the summer timeline. For instance, in early August, you probably won't want to send out coupons for a water park or discounted swimwear as people are typically winding down their summer and preparing for the school year. Back-to-school shopping is the second largest shopping season of the year with more than half of shoppers using smartphones while shopping to get price comparisons, inventory availability, or directions. Busy parents rely on mobile to tell them where to head for the best deals—this is where retailers can step in by offering timely promotions, personalized coupons and targeted updates straight to their customers' mobile device.
Brands that think strategically about their use of mobile during the summer will be the ones that come out with higher engagement, stronger customer connection and larger sales at the end of the season.