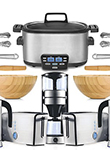 The Merchandise Center, or TMC, is a collection of professional showrooms located half a mile away from the Chicago O'Hare International Airport. TMC hosts seven trade show events every year, each show lasting three days. Owner Mark Passis says, "We have the majority of the leading players in the closeout and general merchandise industry."
The ninety vendors that exhibit at The Merchandise Center all sign leases ranging from three to five years for each of their showrooms. "We have the biggest collection of permanent showrooms in the business," says Passis. Exhibitors offer a variety of closeout and discount housewares, hardware, seasonal goods, accessories, toys, home décor, health and beauty, and name brand goods. The permanent showroom structure guarantees large inventories and wide varieties. Many national brands such as Christmas Tree Shops, Family Dollar, Ross Stores, Dollarama, True Value and Boscovs all attend The Merchandise Center's events for quality products priced below regular wholesale rates.
The average showroom is between 600 – 700 square feet, with some larger showrooms reaching several thousand square feet. "We have a big building and we could make it look like a typical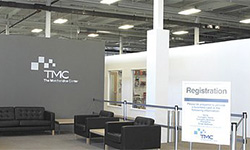 trade show – but that's not what our community wants. Our buyers and sellers value being able to spend time working together in a slightly more private setting," continues Passis. The more intimate layout of the showrooms allows each exhibitor to spend time getting to know buyers. "You can get more attention from vendors at our show," says Passis. "Vendors have more time to devote to each retailer. They can address specific needs and be more helpful."
The building was designed just for The Merchandise Center, so the atmosphere is spacious and comfortable for attendees and exhibitors. "There is tons of light and it's very open with high ceilings. All of the displays are very appealing," says Passis. "We offer a much more hands-on and user friendly experience. We feed all of our visitors really excellent food for free. Our staff is terrific and makes everyone feel welcome."
TMC arranges special accommodations with all the hotels within actual walking distance from the venue. "Our highest rate is around $120 per night – and these are really nice hotels," continues Passis. "Our airport location is unique from other locations because there is a lot that has been built up here over the past few years. There's a nice casino and really a lot to do. Buyers can be really efficient and effective with their time."
"Whatever season you are trying to buy for, there is a show that will be close to that," says Passis. "You don't have to wait all year or six months for a show. If you need goods and need to be able to look, touch, feel, and see an incredible variety of closeout distributors on a very short time – we are accessible."
Attendees are encouraged to register online in advance. Visit www.tmcexpo.com for more information.