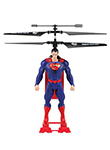 World Tech Toys is the industry leader in affordable, innovative hobby-grade radio control toys. The family owned and operated company began selling on eBay in 2004, and by 2007 had gained enough traction to begin manufacturing their own products. Now, World Tech Toys is a prominent supplier of high technology toys for mass market and independent retailers alike. "We see what's in the market, take expensive items, and bring them down to affordable pricing," says CEO and co-founder Kev Kouyoumjian. "We want to make products affordable for the average consumer." However, the business does not sacrifice quality or function to bring down the cost. "We are way ahead in terms of technology," says Kouyoumjian. "Our products are sleek and our features are high-tech."
Helicopters
World Tech Toys' most popular model to date is the Hercules Helicopter™. Invented in 2010, this model is unbreakable, able to withstand 200 pounds of force. The product "really took off," says Kouyoumjian. The helicopter was featured on Good Morning America and Fox and Friends. To date, their patented design has sold close to three million units.
The success of their Hercules Helicopter™ allowed World Tech Toys to develop exclusive licensing agreements with brands such as Marvel, DC Comics, Angry Birds, Ghostbusters, NBA, NFL, Lamborghini, Ford, Dodge, and Sonic Boom.
Drones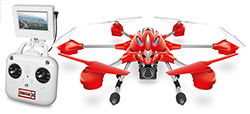 "Drones are currently a two billion dollar industry. According to Yahoo.com, by 2020 they will be a 120 billion dollar industry," says Kouyoumjian. Their current best-selling product is the Striker Drone, which sold just fewer than one and a half million units in its first year. "It's popular because it's the sleekest drone out there," explains Kouyoumjian. "It comes with a camera that can take up to 50,000 pictures and four hours of video, an SD card, rechargeable battery, and everything included. It's priced really well." The Striker Drone retails for $79.99, well below other drone models which can be priced anywhere from $500 – $1,200.
Flying Figurines
Marvel™ flying figures are another one of World Tech Toys' most popular products. Characters such as Iron Man, Captain America, and Spider-Man come with a built-in functional jetpack. When the figures are not in use, they can be displayed in their custom stand. "Many customers keep them at their desks as collectibles," says Kouyoumjian.
What's Next?
World Tech Toys is constantly developing new technology and forming partnerships to continue their creation of best-selling toys. The company currently has several projects in the works, including a new product called Air Dart Blasters. These air guns will rival Nerf® products, offering advanced technology at affordable rates.
Another product line, World Tech Elite, is expected to launch soon. World Tech Elite is a high-end line of their popular drones. This line's premier model, called the Raptor Drone, will come equipped with a GPS, a return to home base function, 1080p HD camera, a 5-inch monitor on the remote control, and up to twenty-five minutes of flight time.
World Tech Toys is partnering with some very high-profile celebrities to create several new app-based drone models. More details will be announced in the near future.
Ordering Info
The business has an order minimum of six pieces per toy. They offer a 24-hour turn around time and ship with all carriers. "You can get one case and see how it goes," says Kouyoumjian. "We have a proven track record. In the last ten years we've sold to almost every store that carries drones or other high tech toys."
For more information, visit www.WorldTechToys.com. All of these toys and more can also be purchased online at their partner site HobbyTron.com.