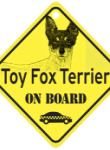 KC Creations Inc. has a new line of "On Board" and "Security" signs, featuring dog breeds, to celebrate man's best friend. These new signs, made of yellow polyethylene, are 4 inches by 4 inches and are displayed with the help of a suction cup. The "On Board" signs can typically be displayed in car windows, and the "Security" signs in homes or apartments. There are over 100 dogs featured in these signs. The wholesale price for both new lines is $1.55 per unit, and suggested retail is $4. For orders over a certain size, a free 144 piece rack is available. More information can be found on the company's newly relaunched website, http://www.kccreationsinc.com.
"The response has been very good, they're off to a good start," says company owner Ken Cleveland. "The 'On Board' sign is targeted toward cars and trucks. The 'Protected By' security signs can go in a car or truck, or they can go in a window, on a kid's mirror, a microwave, a mirror, anyplace. With these little signs, the cuteness factor is a big part of the appeal. Where my big signs have a full body image of a dog, these are basically more like a head shot."
KC Creations also offers a line of crossing signs, which it calls "X-ing" signs. These X-ing signs have a wholesale of $2 per unit and a suggested retail of $4 to $6. The X-ing signs feature over 100 dog breeds. However, there is a mix of other animals available in this format, such as alligators, bears, cows, and more. The minimum order is $100. There is also a spinning rack available.
The company offers starter packages but retailers need to call for details. Unlike some animal signs that are in silhouette, all of KC Creations signs are careful pen and ink drawings. These signs sell well in traditional outlets like pet shops, but KC Creations reports that a lot of signs are sold at various fairs around the country. Naturally, signs like, Tiger X-ing, sell well at the zoo.
Contact:
KC Creations, Inc.
8526 Innsbrook Lane
Springboro, OH 45066
Ph: 800-223-6369
Website: www.kccreationsinc.com