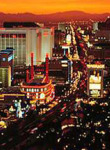 LOS ANGELES, CA–(Marketwire – July 13, 2010) – The leading wholesaler and supplier brands will come together at ASD Las Vegas, August 8-11 in a distinct trade show experience for over 3,000 exhibitors in the style and beauty, jewelry, gift, toy, and value categories.
"At ASD, we provide a unique environment where buyers and sellers come together," said Chris McCabe, Vice President of Nielsen Business Media's Merchandise Group. "This year, we will take over the Las Vegas Convention Center, and offer a gift show, fashion show, toy show, and health and beauty show all under one roof. It is our hope that all of these changes will help our exhibitors thrive in their businesses and the changing retail environment."
Exhibitors from around the world will be participating in this year's show, necessitating the expansion of the show to the Las Vegas Convention Center. New to the show this year is an increased focus on style and beauty, with the ASD Beauty Oasis located in the center of the convention floor. This area will feature lush lounges, refreshing beverages and new beauty treatments that provide an escape from the hustle and bustle of the show.
In addition, the show will offer seminars on topics of interest to the current retail environment including social media, search engine strategies, e-commerce and global sales strategies. All seminars will take place on site at the Las Vegas Convention Center on August 9 and 10.
A sampling of companies exhibiting at ASD Include: Top's Handbag, U & I Import, NYS Sunglasses, Park Fragrance, Cala Products, Squire Boone Village, Art Glass Imports, DM Merchandising, Jenkins, Danwak, Alexander Kalifano, Studex, Ken Craft, Regent Products, and OKK Trading.
For over 50 years, ASD Las Vegas has been serving the unique community of buyers and sellers in the wholesale and mass retail arenas. The show will take place from August 8-11, 2010 at the Las Vegas Convention Center and is expected to draw nearly 50,000 attendees including large chain retail stores, independent retailers, online retailers, distributors, boutique franchisers, mall carts and kiosks. The show offers the most comprehensive selection of general merchandise under one roof in the country.
Since 1961, ASD has been bringing buyers and sellers together to create the most dynamic B2B merchandise marketplace in the industry. The ASD shows are created by Nielsen Exhibitions, which produces leading trade shows in the markets served, including Merchandise, Jewelry, Design and Sports. Nielsen Expositions customers get market insight, expertise and access to build their business and connect with the most profitable customers. For more information, please visit, www.asdonline.com