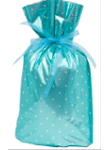 Misumaru has become a global brand, manufacturing and distributing wholesale worldwide. Its grocery packaging line remains a top seller and its gift bag packaging products have found successful placement in many independent retailers' gift sections. After 40 years of operation, Misumaru has been recognized as a pioneer and leader in polymer plastics packaging. Among its achievements, the company was one of the first manufacturers of space saving packaging, using compression technology in its design, and also proudly claims to be a non-PVC manufacturer. As the company's gift bag packaging products become increasingly popular, Misumaru is recognized as a printing specialist, operating up to nine color printing in the development of its quality designs.
Gift Packaging Evolved
At a wholesale range of  $0.45 to $0.90 a piece and an MSRP of $1 to $2, Misumaru's gift bags are a perfect solution for those on-the-go consumers, who may have forgotten about that upcoming special event. According to Jon Sharver, vice president and director of sales, "Misumaru's 1-2-3 gift bag with draw string ribbon, in over 100 designs, including holiday and seasonal, make gift wrapping less of a hassle with no more gift wrap, tissue paper, bows and tape to worry about." These bags also hold a gift of any shape, and as a result of their double layer design, they are far more durable than paper, holding up to 12 pounds.
For those independent retailers looking for variety in their gift sections, Misumaru offers a 48 mixed configuration every day set, great as a starter kit, for $75. For those retailers, who know exactly what they want to market in their store, Misumaru also offers custom designs, as the products are factory direct. For any order, however, Misumaru requires a $100 minimum. And, although budgets remain tight, Sharver assures, "Retailers get the best deal when completing a minimum order of $100, as any order under this amount would not be worth the shipping costs." Product pricing is available on the company website, and orders of higher volume are eligible for discount pricing. While contacting the company directly is a good way to learn more about its products and pricing, Misumaru representative will also be available and showcasing at the ASD Tradeshow in Las Vegas, July 31 to Aug. 3, at booth G751.
For more information:
Misumaru
Tel.: 707-290-6262
Website: www.misumaru.com