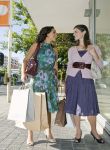 A 2010 survey of American shoppers, conducted by Adweek Media/Harris Poll, reveals that the "Made in USA" label significantly increases a buyer's chance of making a purchase. Yet, is it only homemade brands that keep independent retailers raking in profits? At London Jewellery Week's first ever trade day on June 9, another profitable and universal suggestion was given by a panel of independent retailers to those brick and mortars trying to keep both U.K.'s High Street and U.S.'s Main Street thriving: be different.
The ways in which to express and promote your unique business are unlimited, but as Nicholas Wainwright, managing director of Boodles an Inspiring Independent of London Jewellery Week, warns, "As an independent you want to remain true to your customer. It's the look of the shop, its character and your character that draws them in." Below are a few ways to tell and sell your story as an independent retailer and draw your customers in:
There remains a traditional form of marketing that doesn't involve tech tutorials or search engine optimization (SEO) know-how. In-store marketing provides you with the opportunity to present a clear and direct message to your target customer, the one already walking your aisles or approaching your checkout counter. Are you doing all you can do to entice your customer at the point of purchase? Although merchandising displays are important, in-store marketing is more than product setup. In-store promotion can have an interactive feel as well, such as experts on-site to give advice and staff presenting product demonstrations. You can also add to your ad campaign by displaying ads on-site. With these in-store promotions you may not only change a shopper's perception of a product, but change their purchase behavior as well.
Digital signage has become commonplace, filling our line of sight with digital out-of-home (DOOH) advertising at the gas pump, in the mall, in corporation lobbies and at an independent retailer near you. Although commonplace, digital signage proves effective with high return on investment, especially when implemented at the point of sale (POS). In the fourth quarter (Q4) of 2008, ABI Research conducted a study, titled, "Digital Signage Market Analysis." With the help of independent retailers and advertisers looking to target consumers in the out-of-home media market, ABI Research forecasted the digital signage market to more than double in size over the next five years.
There was a time when show windows were used as a sort of storehouse, more an eyesore than an inviting visual. Today, there are books, guides, and professional window dressers to make the entrance of your store inviting for those customers walking or driving by. Anything from themes to mannequins, to human models is acceptable. Below are some top tips used by professional window dresser to help you get started:
CLEAN! Remove all dust and dirt, and most importantly, have the window washed
Use clear fishing wire if hanging any type of prop
Choose colors that complement your merchandise on display
If all else fails, work with the seasons, implementing seasonal elements into your design
The message simply is to raise your standard and don't be afraid to stand out, as it will allow you to compete with growing chain stores (multiples). As Wainwright suggests, "whatever the multiples are doing, we out to be doing the opposite."