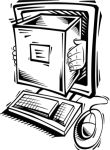 There still remains a learning curve for many independent retailers when it comes to advertising via Facebook and other social media. And, although your marketing team may be a one man show, even the little guy can make a big name in its social network. Marketers, surveyed in a recent report from the World Federation of Advertisers, say their fan pages are about generating insight, advocacy, loyalty and engagement from fans. Rewards aren't always immediate, and it takes time to see a return. The first step is creating an effective business page.
Creating an Effective Presence for Your Business on Facebook
Make your Facebook page a platform for Internet branding, marketing and advertising, by following these steps:
Set up a Facebook Page for your business, providing a forum for sharing information and engaging customers, establishing a community. Visit the 'Create a Page' page, the layout will be simple to follow. Remember, give the page a custom name and URL and check the box at the bottom declaring that you are authorized to create a page on behalf of the business.
If you are already logged into Facebook, the page you create will be associated automatically with your Facebook profile. If you're not logged in, you will either have to log in to your account or create the page under a limited business account by supplying an e-mail address and password (navigation and management are harder using this option).
Make sure to read Facebook's "Terms of Use" when exploring all options, to help in making the correct choice and to prevent any serious violations.
Customize your page with the standard Wall and Info tabs, or use Facebook Markup Language (FBML) to acquire that personal touch. Visit Static FBML page and click Add to my Page at the upper left of the screen. Static FBML will then be listed under Applications.
Then, you can use the page as a platform to publicize contests and giveaways, new product information, special offers and trustworthy brand news. But, while you are making the diligent effort to interact with your customer, how are you letting your customer interact with you? Duncan Southgate, director of global innovations at Millward Brown, a research firm, says the World Federation report shows that, "'marketers' gut instinct was right, people are open to engaging with brands." Facebook's newest features, Recommend This Place and Community Edit, allow such interaction to occur.
Recommend This Place: Allows users to submit recommendations for your business. These recommendations are then published to the news feed and displayed to friends browsing your Page and the Recommendations From Friends module. This feature will draw users to the Pages their friends prefer, as well as give users a social recommendation to Like the page once there.
Community Edit: This feature is exactly what it sounds like, the community or users are given the ability to share knowledge and edit information about Facebook Places (businesses like yours or locations in which users can "check in"). Users will now have the ability to add details about places, report duplicates, and complete empty data fields.