By Owen Andrew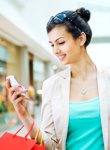 More than 60 percent of U.S. citizens own smartphones. Sales of mobile devices with advanced capabilities are increasing at a meteoric rate in emerging economies like China, Brazil, and India. This is a very important development, because it opens up new opportunities for businesses simply due to the increasing rate of Internet adoption.
One reason for this rise in ubiquity is that phones are a necessity. Due to the convenience of Internet access on these and other modern technologies, the Internet is beginning to take its place as a necessity on par with phone-use. The entry barrier to Internet is thus lowered, and as a result the potential for new online customers is great.
Furthermore, Internet users are increasingly warming up to ecommerce. Likewise, owners of brick and mortar stores should take note and consider ecommerce efforts as well. Fortunately, brick and mortar retail is far from dead. However, one store can stand out from another by merit of having a strong web presence. The benefits far outweigh the costs–not only can stores reach new, remote audiences, but the physical store will likely see more customers due to the greater potential for creating interest through a web presence. Stores can even use web-based technology to streamline day-to-day business processes. Additionally, for stores that already have a web presence and are nonetheless looking to draw in more customers, the suggestions below can solidify an already solid online marketing effort:
Have a Mobile Web Presence:
Everyone has a web presence nowadays between websites and social media accounts. But make sure that, on top of this, you are well prepared for mobile customers. This means ensuring that your website is not just compatible with mobile but fully optimized for mobile-use. Websites that are as little as two to three years old can be incompatible with smartphones and tablets popular today. Design responsive websites that work with all sorts of devices. If you feel lost, just hire an expert who can do it. Rest assured that this is an expense worth incurring.
Use Location-Based Apps:
One of the primary differences between traditional and mobile Internet is the importance of location. Phones are always moving and their locations can be tracked too. So, there are various ways to figure out where a person is at any given point of time and offer him or her useful and pertinent service. For instance, if the user is searching for Chinese restaurants on his or her phone standing on a certain street, search engines are clever enough to show nearby options. Now, if you have a restaurant too and want to be discovered, you need to work hard to get your location noticed. Use Google Location to indicate your exact address in the search. Claim your location on mobile location apps such as Foursquare as well.
Organize Mobile-Only Events:
Mobile is also a good idea to organize small contests and sweepstakes etc. You can also utilize the mobile capabilities such as the camera to organize photo contests and then make people visit your shop to receive their prizes. Make sure that you have a good presence on mobile-only social networks such as Instagram, Snapchat, Vine, etc. in order to make the most of such opportunities.
Develop Integrated Services:
It is a good idea to integrate both online and offline worlds. This can be easier for food and beverages where it is necessary to consume the items fresh. But even otherwise, think of ways in which the users can be lured into visiting the store. There can be extra services including expert guidance and counseling for people who visit in-person. You can offer small discounts or benefits for people who "check in" through mobile apps. This will encourage more people to do so and thus ensure some easy publicity, as these activities get visible to their network of friends.
Overhaul the In-Store Experience:
Basic ecommerce has the experience of being convenient. So, eventually brick and mortar retailers will have to enhance the in-store experience and turn them into something entirely unique in order to encourage new visitors. You should also use the same mobile devices as your prospective customers, whoever those customers may be. For instance, some restaurants are now using tablets for automating their ordering process. People surf the menu through tailor-made tablets and place orders that go directly to the kitchen. Payments can also be made through mobile devices using cards or net banking. This makes the process more efficient. This kind of innovations should make your store seamlessly integrate with the brave new world of mobile-dominated Internet.