By Mark Clark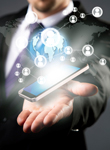 When it comes to building experiences that engage customers, and particularly in building mobile experiences, mistakes are common. Most of these errors do not arise from the technical aspects of integration, but in failure to understand the larger picture and clinging to the status quo. But as an independent retailer, you are in position to strengthen the mobile experience because you are able to mature much faster in mobile than more established retailers.
Mobile Integration:  Key Considerations for Independent Retailers
Why are we talking mobile integration?  Mobile integration is a complex subject, and each business will have different needs and use cases. Mobile integration is a tricky subject that is often misunderstood.   Here are five considerations to make when thinking about your mobile customer experience. 
Technical Integration – The mobile experience requires access to data and processes residing in different systems.  These systems can be within the mobile solution or in other systems (see five areas of integration below).  A technical architecture is needed to integrate data and processes into the mobile experience.   Let your experience strategy drive the technical integration approach.
Full Journey Integration – As you define your experience strategy, what part of the customer journey or lifecycle are you building it for?  Just the shopping experience or the entire journey?   You might think the purchase should be your top priority, but our research shows consumers want a great experience across all points on the journey.  One journey point we have found often lacking in mobile is help or servicing.   For example, most mobile apps require you to exit and call a toll free number to get help.  Is that acceptable for your customers?   Consider the entire customer journey and determine what parts are included in your mobile experience. 
Organizational Integration – One common challenge is getting different departments to align to delivering a single mobile experience.  This is often a big issue in larger organizations.  Frequently, we mention the importance of including customer care in the mobile experience and no one in the organization will own it.  Who is at the mobile strategy table?  Does it include everyone responsible for delivering a complete mobile experience?
Operational metrics – Mobile changes how customers interact with your company.   When you have built an integrated mobile experience, do not let outdated metrics get in the way of the new business.  Our experience and research show the mobile customer is moving away from channels like voice and email to texting.   However, texting or chatting with a person to get help is a different interaction than voice and might need different operational metrics.  Is First Call Resolution still valid?  Make sure your metrics really measure the mobile experience and consumer preferences. 
Other Considerations
Often we narrowly think integration is just about what the user sees on the phone.  But also consider integration across these areas as well:
Mobile User Interface –The user interface (UI) is critical to create a simple, enjoyable, functional way to access your store.  Integrations here may include functionality that can be easily dropped into the mobile app or web.  For example, at Contact Solutions we provide a software developer kit (SDK) that easily integrates into a retail app and provides a "customer care" function.  Similar SDKs and plugins exist and make building mobile experiences straightforward. But these plugins are the tip of the iceberg and require other components to back them up.
Context Integration – The mobile phone is rich with data that provides context for the user's experience. This data is allows very rich and meaningful experience to be generated.  Contextual data includes things like behaviors in the app location-based data like I am near a store, other sensor data like temperature, and much more. First understand how you will use contextual data to create experiences throughout the journey and then develop the integration strategy.
Help Function Integration – Many of the solutions we build for clients include the ability to reach a person who can provide help when a customer struggles.  Providing such help generates amazing engagement. One great thing about mobile is its ability to break down walls and allow almost any employee to provide assistance. So instead of the person only being a call center agent, now the help provider can be a fashion advisor, a retail clerk, a front desk person, a concierge, or some other person that can impact the customer experience. The integration aspects of this are that the help provider needs to right data and processes at their fingertips to support the customer.
Cross Channel Integration – Research shows your customers want a seamless experience independent of channel.  The bad news is that to integrate various interaction channels to create an omni-channel experience is very difficult. The good news is that the mobile device consolidates most of the channels onto your customer's most important device.
As you venture into the mobile landscape, it is critical to take a broad view of your mobile user experience in order to develop a more competitive mobile strategy. Uncover assumptions and shortcuts that might be holding you back, and you'll be on the right path to creating a mobile strategy that keeps customers coming back again and again. Keep asking why!