By IvyLee Rosario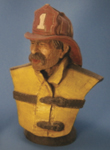 If looking for gift items to sell that are both artistic and one of a kind, look no further than Creative Castings Inc. From sculpting and molding to casting and painting, this company will bring to life any prototype that comes their way. "We have done sculptures, architectural pieces, clay figures – we can do it all," said Donald Kellogg, owner of Creative Castings Inc. The idea came in 1987 when Kellogg worked in manufacturing but found that instead of offering services to other businesses, the company he worked at was only concerned with their own brand and product line. So, he and his wife decided to open up their own business where they could assist other companies that might have the idea for a product but not necessarily the technique to produce mass amounts.
Although Creative Castings Inc. is capable of constructing a plethora of figurines, their most popular work are skulls, birds, wildlife, and fairies, which Kellogg says are increasing in popularity more now that ever. "We do these mini fairies and the customers just love them. They put them in plants and in gardens and they look really unique." The idea of a gift needs to be something memorable and one of a kind for the person receiving it, said Kellogg. "These products do so well because they are unique. A lot of them are numbered and signed by the artist, so the items are even more popular with people knowing there will only be 50 or 100 of them made, and that is it."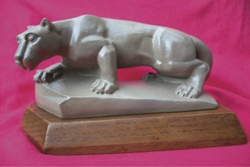 From bronze casting and wood fillers, to marble and fiberglass, Creative Castings Inc. can customize the product to your specific needs right down to the finishings, bagging, and shipping out. The company offers drop shipping to provide ease to the customer in knowing they can send the products straight to the source without having to worry about being a middleman. "We do as little as one piece sculptures, all the way to thousands" says Kellogg. "We are a good medium in between because we give our customers options and help to figure out what works best for them and their business."
The company not only does a lot of work for customers looking to attend trade shows, but they also have a background in lending a hand to some massive well known projects. In April 2001, Creative Castings Inc. helped make the largest chandelier located in Shreveport, Louisiana. "We were in the process of putting it together and the owner realized he was only a few feet away from the world record, so we decided to go for it and we just kept adding pieces onto the chandelier," said Kellogg. Whether it is retailers, wholesalers, or even working with kick-starter programs, Creative Castings Inc. can provide the assistance needed to produce items and keep the creativity flowing. For more information on them visit www.creativecastingsinc.com or call 410-758-6731.