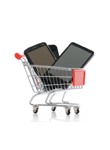 Many independent retailers have come to terms with the fact that consumers flock to the Internet, whether it be via PC or mobile browsing, for product information and purchasing options. But for those smaller businesses holding out on mobile opportunities, the "Back to School" shopping season confirmed the change in consumer shopping trends. A survey commissioned by Deloitte and conducted by an independent research company picked up an increasing trend among parents shopping for this year's school supplies, in which nearly two-thirds of the 1,000 parents polled said that they would be using their smartphone during the shopping process. A report by CNBC added, "Three out of five shoppers using smartphone devices will use it to get price information, while more than two out of five say they will download discounts, coupons or sale information."
As retailers finish out the fourth quarter, focus on holiday sales and prepare the 2012 marketing budget, m-commerce will continue to be a topic of interest and exploration. NetworkWorld.com reports IBM's recent research findings, saying, "Record numbers of consumers are already shifting their shopping from PCs to mobile devices. In October, nearly 11 percent of online shoppers used a mobile device to visit a retailer's site. This month 15 percent of people in the U.S. who log onto a retailer's website are expected to do so through a mobile device." Below are some of the ways both retailers and their consumers can be found utilizing mobile devices and the shopping channel they provide this holiday season.
DIY Mobility for Retailers
Small and independent retailers can be hands on this holiday season, creating a mobile app for Black Friday or promoting holiday shopping specials. Magmito, a mobile content creation solution to make apps for any phone or platform, targets the Do-It-Yourself (DIY) community, small to mid-sized business (SMB) users, enabling anyone to create rich and engaging apps to promote products, services, events, etc. Magmito offers free development of an app with ads, or a $99 deal for an app without ads.  Apps can be created and published in just a few hours, and updated with new specials as often as needed.
The apps can easily be distributed through auto-generated QR Codes, popular app stores, Facebook, Twitter, SMS, email-to-mobile and more, depending on a retailer's marketing plan. The apps will also work on both smartphones and feature phones. Magmito delivers apps both as a native app or Web app for all J2ME, Android, Windows Mobile and Blackberry devices. IPhone users automatically get an enhanced Web App version, avoiding the Apple approval process.
Holiday Deals for Consumers
Appitalism.com launched its combined social community with an online store providing digital content for all devices in November 2010. Compatible with smartphones, tablets, PCs and eBook readers, the site debuted a catalog of more than ten million premium apps, songs, books, games and videos. Simon, CEO of Appitalism, announced in a statement Appitalism's "goal is to be the leading destination for consumers seeking to learn about and purchase the highest rated apps and content for any device." These include those discount and coupon apps for the holiday that more than two out of five shoppers are looking for to aid in their shopping. Among some of the apps available are:
Black Friday Deals: Get all the info you need for Black Friday shopping! Browse hot deals and buying guides, look through ad scans and check store hours. Create a shopping list, win prizes! Everything you need to be prepared this Black Friday is here.
Black Friday Deals & Coupons: Great coupons for saving money on Black Friday – the biggest shopping day of the year. We will also update the app for cyber Monday and throughout the holiday season and onward.
Black Friday Survival Guide: Black Friday is one of the biggest shopping days of the year and a great time to find incredible deals. blackfriday.fm wants you to be ready when the big day rolls around this year on November 26th, so we're bringing the latest news, the biggest sales, and the best deals right to your phone with the blackfriday.fm app.