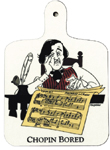 Music speaks to people in many different ways. Through a combination of beats, notes and lyrics, music offers a totally unique experience for each listener. No one understands this better than Robin Galison, president of Music Gifts Company of England (U.S. distributorship), who has worked since 2006 to offer music themed giftware, allowing that personal connection with sound and symphonies to be transferred over to shopping. Working under parent company Edwin F. Kalmus, a sheet music publishing company founded in 1926, Music Gifts Company of England has a long history in the music business and is a trusted source of all things music inspired.
One of a Kind Music Themed Giftware
Offering one of the largest ranges of unique, music themed, British made gifts, the wholesaler is a hit among independent retailers such as book stores, music centers and specialty gift shops. "We can even be found at the Kennedy Center of Performance Arts," says Galison. She claims the difference in and the preference for her merchandise is that, "we are focused on quality. We don't offer plastic cups or cheap erasers." All products are hand wrapped and designed in-house, "Best of all," she adds, "highest quality doesn't mean the highest prices." In fact, most of the company's merchandise wholesales for $3 to $4, which allows for large profit margins, as many of the items carry a retail price triple the retailer's cost.
Among the hottest items are Music Gifts Company of England's kitchen chopping boards made of melamine, and individually shrink wrapped for hygiene purposes. "Each of these chopping boards has a music theme and many are quite humorous," says Galison. The "Chopin Board," featuring a musician with a look of boredom on his face, and the "Little Chopin," a smaller sized chopping board, are the best sellers in this category according to Galison. Other hot sellers new to the company's lineup are music themed note cards, now available in color. A 10 pack offered at $3.95 wholesale is a good deal for retailers, as there is no specific minimum required. "We keep all items in stock and offer efficient and reliable services to our customers," notes Galison. Music Gifts Company of England is also offering a five percent discount off any new customer's first order when mentioning this article. Representatives and merchandise will also be available at ASD, Booth SL2614.
For more information:
The Music Gifts Company of England
6403 West Rogers Circle
Boca Raton, FL 33487
Toll Free: 866-981-8133
Tel.: 561-981-8133
Fax: 561-997-0611, 561-241-6340
Email: Use form online
Website: www.musicgiftsofengland.com