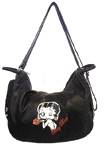 Keeping up with fashion is an ongoing process, and retailers are well advised to set aside some time at least every season to stock up on the latest trends in apparel and accessories, including handbags. For retailers to be prepared, their wholesale suppliers such as Aliz International have to put in the leg work, investigating and testing trends for the seasons to come. Working in such a competitive market requires a continual cycle of innovative and new ideas, and sometimes an addition to the team. A new in-house designer, born in Hong Kong, a graduate of design in Australia, and a frequent international traveler, gives Aliz International's in-house design team that cultural edge it has been looking for. "Our in-house designers work closely with our factory in selecting materials, hardware, styles and all the fine details to perfect our bags," says Rosanna Tran, VP of Aliz. "And with our new team member, we can be sure Aliz has distinctive insights on fashion, design and culture."
New handbags, New Team Member, New Sales
With wholesale prices of $20 or less, retailers can't go wrong with Aliz International's handbags, especially its licensed celebrity bags, which continue to sell well season after season. It doesn't always need to be about a new concept, mentions Tran, just a little reinvention and freshening up. While the entire line of Betty Boop, Marilyn Monroe and Elvis Presley handbags was given a fresh look last spring, Tran couldn't resist the offer to work with well known artist, Betty Harper, in designing an additional line of Elvis Presley bags. Harper, a portrait artist with a special hand for drawing the King of Rock n' Roll, became the official artist for Elvis Presley Enterprises in 2006 and is helping Aliz with its new line. "Betty Harper's imagination knows no boundaries, and with her talent our bags will have a fresh and unique look, marking some of the momentous events and times of Elvis' life," notes Tran.
The King of Rock n' Roll isn't the only licensed line that has Tran excited and Aliz working at full speed. A new funky and retro line featuring famous pinup girl, Bettie Page, is also soon to be launched. In fact, at the ASD Las Vegas show in March (Booth C2775), Aliz will be showcasing the innovative line featuring the "woman with the perfect figure." Aliz assures retailers it has put in the effort to stay ahead of trends and the competition, and is offering a long list of hot items customers are looking for.
As always, for retailers who try a variety of the company's products, Aliz offers a special assortment of 50 bags in two different arrangements. The first is a Manager's Special that contains factory samples and discontinued styles for only $200. The second is the Trendy Pick, with an assortment of 50 of the newest best sellers, also for $200. Both sets of bags are valued over $1,000. All other orders must meet a $100 minimum; otherwise there is an additional $10 charge for handling.
For more information:
Aliz International, Inc.
11136 Satellite Blvd.
Orlando, FL 32837
Toll Free: 1-888-289-2541
Website: www.alizbags.com