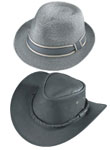 Henschel Manufacturing Company, founded in 1947, is a family owned and operated designer and manufacturer of traditional and trendy headwear. The St. Louis, MO based firm carries a vast array of popular styles, and is premiering two exclusive headwear licenses this spring: National Geographic and Who Ced? by Cedric "The Entertainer."
National Geographic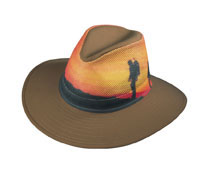 The National Geographic collection features Safari, Fedora, Booney, Outback and Ivy League styles as well as Aussie Breezers with official National Geographic photos screen printed on the mesh crowns. Comprised of materials ranging from lightweight waterproof leather to recycled fabric and camo print, there is something for everyone.  Features vary, and many of the hats are made in the USA. Hats may have packable, crushable and floatable qualities; water repellent properties; a moisture-wicking sweatband; UPF 50+ sun protection; or a secret interior pocket for storing essentials such as a driver's license or cash. "The collection features one-of-a-kind pieces that are functional as well as stylish, making them perfect for outdoor activities, from taking a leisurely walk to fly-fishing or hiking in the mountains," explains Jessica Kraemer, assistant VP of Sales. Wholesale is from $14 to $29, and retail runs $35 to $75. A well-known and respected brand, National Geographic uses all its net profits to fund research, expeditions and educational programs.
 Who Ced? by Cedric "The Entertainer"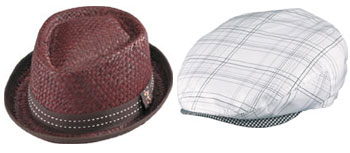 The Who Ced? by Cedric "The Entertainer" collection includes Fedora, Ivy League, Newsboy, Duckbill, and snapback and fitted Baseball Cap styles in a variety of colors and fabrics. This brand from the comedic actor features intricate and subtle details in stitching, as well as fun twists on beloved classic styles. "With this brand, it's all about the details," Kraemer states. "By using interesting patterns or slight changes to styles, such as a rolled brim or diamond tip on a Fedora, each piece stands out and has unique flair. Cedric is well known for his passion for headwear, and this vibrant collection appeals to a younger generation that wants to dress up their look. It's all about having fun, dressing nice and treating yourself to something special." Who Ced? hats wholesale for $12 to $17, and retail for $30 to $45.
Henschel Manufacturing's minimum order is 12 pieces, with at least six pieces per style and three pieces per color. For 66 years, the company has strived to produce superior products at competitive prices, and is a leader in the headwear industry. The firm's product lines cater to a range of consumers, from the fashion forward who value quality and style, to outdoor enthusiasts looking for functionality. "Because of our versatility and commitment to high quality standards, we have been able to secure official headwear licenses with several top brands," Kraemer notes. "In the fall, we will be introducing a fabulous line of licensed headwear from designer Robert Graham."
To read more about Henschel Manufacturing Co. and other top selling souvenirs, click here.
Henschel Manufacturing Co.
Jessica Kraemer, assistant VP of Sales
Toll free: 800-USA-HATS
Tel.: 314-421-0009, ext. 38
Website: www.henschelhats.com