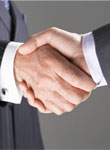 GoDaddy, a domain name and website provider, and Microsoft Corp. have formed a strategic partnership to offer Office 365 as GoDaddy's core productivity software to its small business customers. "Combining our small business expertise, together with Microsoft's productivity offerings, opens new doors for small businesses to easily get the tools they need to get more done in their day," Steven Aldrich, SVP of Business Applications at GoDaddy, told the Wall Street Journal. The agreement provides small businesses with seamless access to professional email connected to their domain names, shared calendars, instant messaging, online conferencing, access to the most up-to-date Office documents, and around-the-clock live customer service. In addition, Microsoft created a unique offering of domain-based email and storage, especially built with GoDaddy's very small businesses in mind. These capabilities are delivered as a cloud service available to users wherever they are, online or offline, and across a variety of devices.
There are an estimated 28 million small businesses in the U.S. and 125 million worldwide. If more small and medium-sized businesses adopted the latest in IT tools, it could potentially boost their revenues by a combined $770 billion and create more than six million jobs, according to a Boston Consulting Group global study commissioned by Microsoft.
This is not the first partnership between Microsoft and GoDaddy. In October 2013, the two firms announced that Office 365 business users could buy a new domain name directly from the software, with the purchase handled by GoDaddy. For more information, visit GoDaddy.com. To read about GoDaddy acquiring Locu, click here.