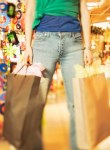 Improvements in the U.S. economy bolstered retailer's February sales, reflecting improved consumer sentiment as it relates to spending, the National Retail Federation reports. Retail industry sales for February rose a seasonally adjusted 0.6 percent from January, and 4.2 percent unadjusted year-over-year. "Retailers have done a commendable job keeping their inventory levels where they need to be, while still offering attractive promotions for those who are eager to spend," NRF President and CEO Matthew Shay said in a statement. "The big challenge retailers will face in the coming months, however, will be going head to head with high cotton, food and energy prices."
February retail sales released by the U.S. Commerce Department show total retail sales (which include non-general merchandise categories such as autos, gasoline stations and restaurants) increased 1.0 percent seasonally adjusted over January and 9.1 percent unadjusted year-over-year.
"February retail sales are in sync with evidence of the expanding economy," said NRF Chief Economist Jack Kleinhenz. "While February is typically a slow month for retailers, consumers showed their spending power, though it's too soon to tell what type of impact the spike in gasoline prices will have on consumers this spring."
The full story from the NRF begins HERE.