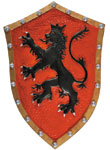 There's nothing like an action movie or video game to start a toy replica trend, and for Neptune Trading Inc., this holiday season is already off to a strong start. Current pop culture trends aren't all that shape Neptune Trading's sales, however, because its line of role playing merchandise taps the comic book and live action role playing (LARP) industries. "For the holidays, a lot of items have an uptick in popularity based on what games and movies come out," says Michael Lu, VP of operations. "We tap those trends, and our replica knives and swords do really well." He recalls versions of props from numerous Quentin Tarantino films such as "Kill Bill" and "Sin City" being hot sellers in years gone by. This year, Thor and Batman will no doubt continue to spur business.
Neptune Trading, in Ontario, CA, is a sister company to Wuu Jau Company Inc., located in Oklahoma. Neptune handles west coast business for the collective company. "Because our inventory is comprised of more than 3,000 different products, with such a wide variety within that number, it's difficult to pinpoint one best seller," Lu explains. "But it's a good thing, because we've noticed that overall business is doing better this year." In the summer months, outdoor and hunting equipment do exceptionally well, and when the holidays arrive, movie and game based pieces rise in popularity.
One company claim to fame is the development of its own unique polyurethane for costume and role playing (CosPlay) purposes. "The polyurethane is a proprietary material," Lu points out. "It's very durable and there's nothing else on the market like it. As a result, we're getting a lot of business from movie production companies that want to order their props from us." The material is dense enough to be carved with great detail, but soft enough to be harmless for those who want to try testing their dexterity on an opponent. Lu reports seeing a great demand for Neptune Trading's polyurethane props from customers who do comic conventions, called Comic-Cons. Attendees frequently dress in costumes with meticulous attention to detail, but are not permitted to carry actual weapons into the convention. For the diehard fan, Neptune Trading has the perfect solution, selling at a wholesale price between $10 and $13 per piece. Retailers are frequently able to earn between 50 and 300 percent markup.
Neptune Trading services a variety of retailers, ranging from gas stations to Halloween costume rental shops. Among its customers, Lu has made note of the demand for secure point of purchase displays. "We're going to start carrying displays for our pocketknives and similar merchandise," Lu remarks. "A lot of our clients have been asking for them, so we've been working to deliver that option. We expect they will be ready for retailers by the end of the year, or just in time for the holiday season." Customers will be able to check out the displays, as well as any new items on the company website, which was just given a makeover this spring. As for a sneak peek of new merchandise, Lu says customers will just have to wait and see. "Given the cutthroat nature of this business," he laughs, "we don't want to give away the surprise too soon."
For more information:
Neptune Trading Inc.
4021 East Greystone Dr.
Ontario, CA 91761
Toll Free: 888-637-8723
Tel.: 909-923-0236
Website: www.neptuneusa.net