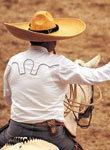 There are few patriotic images as iconic as the silhouette of a horseback rider wearing a cowboy hat. Widely associated with the western lifestyle, this style of hat has remained both a symbol of the American spirit and a beloved fashion statement for decades, and few western hat manufacturers can attest to this with more conviction than Summit Hats. Deeply rooted in historic Houston, TX, Summit Hats has provided retailers with lovingly constructed headgear since the 1970s, and continues to uphold its quality standards through the generations.
In the days when John Travolta's "Urban Cowboy" persona was at its height, owner Ken Tsai's father was a regular visitor at a nearby Houston flea market. "After work, my father would go walk through the market," Tsai recalls. "Noticing that my father was Asian, hat vendors would ask him if he might be able to import feather bands like Travolta's in Urban Cowboy. My father did so, but in the end the vendors decided not to buy from him. Having no other choice, he went around to other markets in Houston and found he was able to sell the feather bands very, very quickly. They were extremely popular." Tsai's father soon ordered more feather bands and created a business in selling them, but before too long he realized that he may as well get into selling western hats. After a trip to Mexico to find skilled hat craftsmen, Tsai's father began the company that is now four decades strong.
Operating out of a 20,000 square foot warehouse, Summit Hats is a leading wholesaler of western hats and hat accessories, with the traditional cattleman's style being the most popular. Though there is little variation in designs save for an extra curl on the brim, Summit's hats come in 12 fabrications, ranging from lace to fur felt blends. Retailers looking to provide their customers with the best of the best will find it easily in Summit's high end Shantung and Custom hats, which have a suggested retail value well over $100. However dollar stores can also find stylish selections for $2.50 apiece. Summit Hats is strictly a wholesale company, and does not unveil specific wholesale prices online, but pricing information is available over the phone or by catalogue. The company prides itself on keeping its prices competitive in spite of overhead costs, and that's because it puts customers ahead of all else.
"We know our customers' needs very well," Tsai says. With its heels dug into the cowboy homeland of Houston, it's easy to keep a finger on the pulse of the rodeo circuit. "We know our customers sell at fairs and rodeos, and we know that means they make the most sales on weekends. That being said, when a customer places an order we do whatever we can to package it and ship it out the same day, so that those customers have it in time for the weekend when they need it."
The western hat market tends to operate in two seasons, Tsai explains. Rather than follow all four quarters, seasons are split into winter and summer. When the weather is cooler, felt hats are more popular, whereas straw and sea grass hats sell better in summer. For retailers, this means that the hats that sell well during the holidays will continue to have strong sales until summer, when the demand for summer designs rises again.
Just as important as seasonal changes are pop culture trends. "What we've seen recently is that some fashion hats that are crossovers between traditional casual hats and western hats have become very popular," Tsai points out. "This is because there are a lot of singers and celebrities who have been seen wearing these different kinds of hats. It has been helping sales and boosting the popularity of our hats for sure." Renditions of hats worn by Kenny Chesney, Toby Keith and Beyoncé Knowles have been common on the company's order lists. Going forward, Summit Hats hopes to continue riding high with its classic American hats. If apparel trends are any reflection of country western music, Summit Hats will remain at its peak for many years to come.
For more information:
Summit Hats
1120 Roberts St.
Houston, TX 77003
Tel.: 888-741-5987
Website: www.summithats.com