Facebook pages are at the heart of social commerce. They are one of the many ways retailers grow brand influence, find and engage in conversations with potential customers, promote products and leverage the power of peer influence in purchase decisions. ChannelAdvisor's Facebook Commerce Index tracks fan growth and analyzes strategies that U.S. retailers, large and small, use to engage with people and promote products on the social media site. The report provides statistics, important facts and updates useful to retailers that currently use Facebook for business.
The Facebook Commerce Index highlighted three new Facebook changes this quarter that apply to retail brands: the U.S. release of Graph Search, the launch of Facebook hashtags, and new page engagement metrics. With the release of Graph Search in the U.S., Facebook users and retail customers can more easily find businesses and merchants that fit their wants and needs. Through this search engine, retailers and Facebook users are able to see what products their friends or followers have "Liked," and what pages they recently visited on Facebook. Graph Search can be used, for example, to find Shopping & Retail places Facebook friends have previously "Liked," as seen in the image below. With this update, it is key that retailers make sure their pages are up-to-date, and that the content is sharable and enjoyable to the audience they are targeting.

Another recent Facebook addition is the use of the hashtag (i.e., #CyberMonday), which allows for the discovery of online conversations. The idea of a hashtag is to see a wider, public discussion based on the topic of interest. It is a clickable link that leads you to a conversation connected to other pages and people on Facebook that used that hashtag. Retailers are able to draw attention to specific events, promotions and products with this feature. For retailers, hashtags present great opportunities to connect with Facebook users and audiences beyond their established fan bases. Good Sneakers provides a useful example of how to use hashtags within Facebook posts: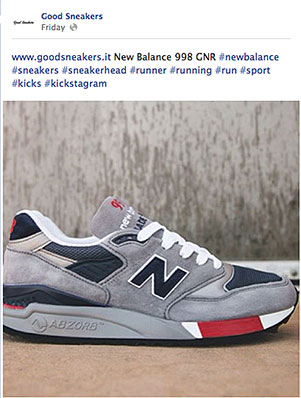 Last, Facebook has given social marketers additional insights, releasing new page metrics and data to track engagement. PTAT, which stands for "people talking about this," is a metric that has been extremely helpful for retailers. It is used to measure engagement on Facebook pages, and allows retailers to see how many people have used content from their pages to create posts and stories. Furthermore, retailers can find valuable demographics such as gender, geography, country, city and language, about the people who have engaged with their pages. This information provides precious data that retailers can use to make informed decisions about the type of content and posts that garner the greatest interest.
The Q2 Facebook Commerce Index offers retailers a greater idea of how to make their businesses rise above the competition when it comes to the use of social media. Whether you are a small or large retailer, this report is sure to leave you more informed, and provide information beneficial for your specific enterprise.
To download the whitepaper, Q2 Facebook Commerce Index, visit channeladvisor.com.