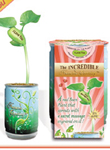 The folks behind the Patent Magic Plant, a product that grows and reveals a hidden message upon blooming, have come up with yet an even more unique twist on their popular item. "We have two new offerings in our product line, the, 'Dance With Me,' plant and the, 'TouchyMutchy,' plant," says company founder, Erez Hadad. The Dance With Me is a seed that grows into a plant in about four weeks. "Once it's grown, whenever you play music the leaves of the plant will sway to that music," Hadad says. "It comes in a recyclable aluminum container covered in kids' design artwork," he adds.
The TouchyMutchy plant also reacts to outside stimuli, but in a different way. "Once the plant is fully grown in a few weeks, if you touch the leaves lightly they fold up as if tickled," Hadad says. "Plus," he adds, "at night the leaves will fold up and close, and then reopen in the morning when the light hits them." These plants are the latest in the company's line.
Through a patented technique, parent company, NSL Magic Plant, engraves a message on a bean, places it in a growing medium within a can, and then seals the can. When the can is opened and the material is watered, the bean germinates within a few days. "We obtained patents on our Magic Plant five years ago and then proceeded to do test marketing on the project for three years, to make sure that we have the best quality control and that 99 percent of the plants will grow," Hadad says.
The two different new plants come packaged 12 to a case, six of each, with display advertising indicating what each one does. "They sell well in the springtime, so it makes sense to get your order in now," Hadad says. The Dance With Me and TouchyMutchy both wholesale for $2.50 each, and retail for $8 to $12 apiece. Patent Magic Plant also continues to sell its other types of message plants as well. "Our best seller is the, 'I Love You,' nature's greeting bean, which flowers in about seven days," he says. The plants come with a 97 percent germination rate, and volume discounts are available.
For more information:
NSL Magic Plant
P.O. Box 2472
Johnson City, TN 37605
Tel.: 877-801-9733
Website: www.thepatentmagicplant.com