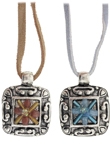 Wholesaling giant, Conklin Fashions, started by wholesaling to vendors in the New Jersey area more than a quarter century ago, and has grown so much that the company now resides in a 150,000 square foot building with 12 loading docks, six for trucks and six for trains. "We started out with a measly 100 square feet of space, and look where we are now," company owner and founder, Jerry Conklin says proudly. "In the early days we sold one item, earrings, and today we offer over 10,000 different items from our six story warehouse."
Conklin Fashions doesn't sell to just one type of customer, because the company recognizes there are so many areas that offer opportunities. "We sell to dollar stores, flea marketers, Internet companies, ecommerce sites, beauty salons, truck stops, grocery stores, pharmacies, jobbers, wholesalers, distributors, schools, gift shops, casinos, fairs, amusements, novelty stores and so many more," Conklin says. "Just as our warehouse has grown, so has our customer base." Indeed, Conklin realizes that ever since he started his business, the company has been forced to grow by the needs of its present customers and demands of the new ones. "I'm proud to say that we still have customers from when the company first began," Conklin says.  "We've discovered that each customer is different and has different needs, but when you fulfill those needs better than anyone else, you have a customer for life. These customers recommend us to their friends who have similar businesses, and so we grow."
One of Conklin's best sellers, and the cornerstone of the company, is earrings. "At this time we have more than 1,000 different styles of adult earrings alone," Conklin notes. "We have it all, from large to conservative, dangle, hoops and colors, silver and gold, as well as clip-ons, multiples, ethnic and large gold and silver pin-catch." Conklin showcases four different displays at trade shows, highlighting 150 different styles per rack. "When you purchase one of these displays, the earrings wind up costing 41 cents per pair," Conklin says, "and that's all you pay, as the display is free and so is shipping to anywhere in the continental United States." Savvy retailers can see that at a cost of only 41 cents, these earrings can be sold in any dollar store and bring in record profits, considering the retail of these items is around 5 dollars per pair. "This doesn't even begin to cover the name brand department store earrings we have to offer," Conklin adds.
Always sensitive to the pressures that retailers face, Conklin makes sure his customer service is top-notch. "If a customer called and asked for 1,000 different styles of sunglasses for just 50 cents a pair, we could ship the order out the same day," Conklin says.  The company offers sunglasses ranging from half a buck to $2.40 per pair. "We have men's and ladies, sports and fashion, staple items and trendy items, most of which come with a free floor display and free shipping," Conklin notes. "We're constantly looking to outdo ourselves," he adds. Recently the company had 300 styles of one of the best name brand shades, retailing for $30 to $60. "We sold them for a mere $2 a pair wholesale," he says.
Conklin Fashion also carries reading glasses and reading glass accessories, with readers priced as low as 62 cents per pair. They also come with a free floor display and free shipping, are ordered in assorted strengths in metal or acrylic frames, and can be ordered by individual strengths from 1.00 to 4.00. "Our reading glass accessories are manufactured by the most famous brand names in the business, and sell for up to $20 each," Conklin says. "Still, our price is a mere 62 cents, allowing it to be sold in the lowest priced dollar store or the highest retail pharmacy or department store."
Not forgetting its roots, Conklin Fashions also carries a full line of semiprecious stone jewelry, consisting of necklaces, bracelets and earrings made out of such materials as hematite, turquoise/howlite, amethyst, agate, onyx, goldstone, tiger's eye, cat's eye, citrine, lapis, quartz and jade. "Prices for semiprecious merchandise start at 66 cents, with a free display and shipping," Conklin says. "Recently we got in a line of beautifully beaded, limited necklace and earring sets that come in a large variety of styles, starting at 58 cents per set." These items come with a free display and free shipping, and retail for $5 to $10 apiece. "Not only is this our normal product line, but we have just purchased a company that sells magnetic jewelry supplies such as high powered magnetic hematite beads, in all shapes and sizes, jewelry making findings, and Swarovski crystal beads as well," he adds. Recently the company purchased 120,000 pieces of magnetic therapy bracelets in many different styles, including hematite, gold and silver. "These are beautifully carded and retail for $6 to $8," Conklin says. "Our wholesale price is 75 cents per bracelet." Last fall, he toured the Smoky Mountains of Tennessee on a retail sales expedition, and every other tourist attraction and gift shop he entered had these bracelets in the $20 range. "In my opinion, the styles we sell at 75 cents are much nicer," he says.
Right now, Conklin Fashions is taking a very aggressive approach to business, advertising from coast to coast in all the major trade journals in the U.S. "We are advertising on the Internet, and for years now we've been falling on first page searches on Google for terms such as 'wholesale jewelry,'" Conklin says. "We're also listed on many wholesale directories, and working with different affiliate Internet companies," he adds. Another way Conklin sells is via a full house of sales reps, who are instructed on how to help customers be successful in their businesses, as well as by taking an active role in social media marketing.
"If you read the papers and follow the news, it's plain to see that these are the worst economic times that we have seen in the last 25 years," Conklin says. "In 25 years of business, I've never seen so many companies failing and going bankrupt, and I'm thankful that through our business practices and our customer support, not only is our company successful, but this will be our best year ever," he adds. Conklin believes his company is doing its part to help the economic situation by selling quality merchandise for as low as five cents on the retail dollar, allowing the retailer to make a substantial profit, while allowing consumers the ability to purchase these goods at a price their budgets can afford.
Conklin Fashions will ship orders as low as $150, but most floor display deals are sold in 100 dozen quantities. When purchased, the company will provide the floor display at no additional charge and pay the customer's shipping, allowing a greater profit. Conklin is also taking the lead in going out to meet customers and show them the actual product line, and how it will look in their stores, through trade shows. The company's aggressive schedule at times places it in more than one location on the same date. For example, this month Conklin is showing at three major trade shows. "It's very important for us to go out and meet with our customers personally to help fulfill their needs, and hear what they have to say, so we can change with the market," Conklin notes. "A company that doesn't change with the needs of their clients becomes stagnant and dies."
Conklin Fashions
9-11 Johnson Street
Bainbridge, NY 13733
Toll Free: 888-563-4411
Website: www.wholesalejewelry.net