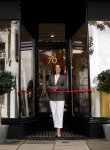 Retailers in 2011 will be intent on actively growing their businesses and improving customer insight capabilities, in addition to continuing efforts begun during the economic downturn to stabilize operating costs and focus on financial discipline. Those are just some of the findings in a report from the National Retail Federation's research and education arm, the NRF Foundation, and KPMG LLP, the U.S. audit, tax and advisory firm.
In surveying 318 retail executives for the ninth annual "Retail Horizons: Benchmarks for 2010, Forecasts for 2011" report, 41 percent said their companies intend to increase domestic store expansions in 2011, up from 25 percent in 2010. Additionally, 25 percent will expand overseas, up from 21 percent a year ago.
"It's quite obvious retailers are anxious to put the recession behind them and build upon their customer service initiatives, enhance their mobile platforms and even grow their footprint," Katherine Mance, Executive Director of the NRF Foundation, said in a statement. "As we move forward in 2011, retailers will strive to keep costs low, but will also continue to focus on providing positive and unique shopping experiences for their customers."
For the complete story from the NRF and KPMG, click HERE.