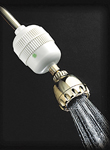 With everyone concerned about eating and drinking right these days, the timing is perfect for New Wave Enviro's new line of long lasting shower and water filters. "We've developed effective water filters that can last up to a year," says company director of marketing and development, Dan Dettwiler. "Most other filters only last six or barely even three months, plus our shower filter can remove dangerous chlorine from your hot water," he adds. Based in Colorado, New Wave Enviro saw a need for, "products that produce quality inexpensive purified water from your own tap water, and reusable bottles to store and carry this purified water," according to the company website. Best of all, the company maintains a team of dedicated sales reps to make sure its dealers are fully supported and well versed in the product.
New Wave Enviro's shower filters attach right to the shower head, and wholesale for $22.99 apiece, shipped in a case of 12, and retail for $44.99 each. Drinking water filters wholesale for $62.49 each and retail for $124.99. They are installed at the point of use, and contain a diverting pin so the filter isn't used constantly, but only for drinking. The company also offers POP displays and handout brochures that explain the benefits of the technology for the filters, which come with a one year warranty.
New Wave Enviro carries an extensive line of water support products including the popular new stainless steel bottles. The company's 600ml bottles, available in four colors, wholesale for $5.30 and retail for $10.49 each. They must be good quality, as they're the Official Stainless Steel Bottle of the U.S. Ski Team and U.S. Snowboarding Team. Minimum orders are only $100, and New Wave Enviro's holiday sale continues through December 31.
For more information:
New Wave Enviro Products
P.O. Box 4146
Englewood, CO 80155
Tel.: 303-221-3232
Toll Free: 800-592-8371
Website: www.NewWaveEnviro.com