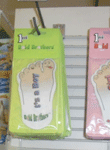 Trademark licensing has a rich history largely beginning with the rise of mass entertainment such as movies, comics and later television. The obsession with stars, characters and cartoons drives people to accessorize their lives with novelty items carrying well-known images, logos and trademarks. For this reason, Almir Ndreu, president of Tiralba, is looking to add his trademarked Bald Brothers and Bald Sisters cartoon characters among the well-recognized licensed images of today. Ndreu's first branding showcase is his line of car air fresheners, wholesaling for $0.50 each.  The playful images of hands and feet brought to life easily retail for keystone and more.
Cartoon Characters for Car Fresheners and Other Merchandise
While from afar the air fresheners appear to be cut outs of hands and feet, a closer look reveals a personality and painted face on each toe or finger. As Ndreu emphasizes, "Bald Brothers and Bald Sisters are cartoon characters for kids and adults alike." And Tiralba's current line of air fresheners is a perfect gift for any occasion and a fun addition to any vehicle. Among the available designs are newborn announcements ("It's a boy!') and nationality inspired images (American flags, shamrocks, etc.). A wide variety of fragrances are also available including unique scents such as rose and peach. "Retailers only need to a place a minimum order of $200," adds Ndreu.
While car fresheners are Tiralba's first licensed merchandise to hit retail shelves, Ndreu plans to expose his Bald Brothers and Bald Sisters to a world of different merchandise. "I want to see these characters on school supplies, key chains, balloons and more," he says. Retailers and those interested in learning more about Tiralba's cartoon characters should call for more information and color pictures.
For more information:
Tiralba Inc.
P.O. Box 120222
Staten Island, NY 10312
Tel.: 855-847-2522