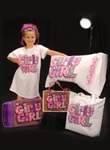 Smart marketers know that once you get a loyal customer, they'll keep coming back to see what's new. That's partly what led to the rapid expansion at wholesaler Nite Nite Products, which started out making colorful pillowcases for girls ages 11 to 16, and has now expanded into a full line for this wanted demographic.
"The company initially started out with pillowcases, a nightshirt, lap tray and tote bag," says company VP of operations, Ty Garmon. "What child doesn't have a pillow on their bed? It seemed like a natural," he adds. Now Nite Nite offers a wide line of products and gift-set combinations, as well as popular items that are fast sellers, all made here in the U.S. by parent company Excel Screenprint. "Two of our biggest sellers are the Girly Girl pillowcase and the 'Peace Zebra' pillowcase," Garmon says. "They've been strong for a long time. We also offer a Baby Bottle Gift Set consisting of an oversized baby bottle that contains a onesie and a bib, and the empty bottle serves as a piggy bank," he says.
Selling to brick and mortars, Mom & Pops, boutiques, flower shops and hospital gift shops, Nite Nite offers a strong return. "The pillowcases wholesale for only $6, but the MSRP is $12.99," Garmon says. The company also offers five different rack programs, where if you buy a set amount of product, the rack is included. "For example, our 'What's Hot' program comes with 96 pillowcases, 30 totebags and the rack for only $799. Plus, we'll throw in eight different pillowcases of your choice at no charge," Garmon says. "Those eight extras equal the cost of the rack, so it's like getting it for free."
Interested retailers can sign up online, and the minimum order is only $100. Not content to just sit on their success, the company is also set to roll out a line of glow-in-the-dark pillowcases in the first quarter of 2011.
For More Information:
Nite Nite Products
3100 Highway 365, Box 40, Suite 180
Port Arthur, TX 77642
Tel.: 409-729-3301
Toll Free: 877-245-0492
Website: www.niteniteproducts.com