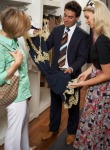 A new study from NY-based ICC/Decision Services shows that while retail associates are focusing on customers, they're not taking the extra steps needed to close a sale.
ICC/Decision Services, which designs and executes customer experience management programs, visited more than 50 retailers across the categories of apparel, department store, electronics, home improvement, toy, specialty and sporting goods to measure their readiness for the holiday season. From October 26 through November 18, ICC/Decision Services conducted 1621 nationwide store visits to assess sales helpfulness and employee service. In areas such as greeting and thanking customers, and cleanliness, for instance, the majority of retailers scored well, which indicates store associates are focusing on the customer experience.
But in other key areas such as explaining promotions, suggesting additional items, and determining customer needs, many retailers are underperforming. For example, suggestive selling occurred only 43.7% of the time on average across all 1621 store visits, the report found. "Associates may be handling customers graciously," David Rich, president & CEO of ICC/Decision Services, said in a statement, "but they are not converting that relationship into sales." Consequently, Rich added, "retailers are still leaving millions on the table."
The top-performing retailer was Yankee Candle, which earned an overall score of 92.8 out of a possible 100, achieving a selling score of 87.8 and a service score of 97.8. Lowest performing segments of the marketplace included sporting goods, department stores and toy departments. Among the major retailers visited were Aeropostale, Ann Taylor, Best Buy, Build-A-Bear, Dick's Sporting Goods, Game Stop, Gap, J. Crew, Kohl's, Macy's, Nordstrom, Office Depot, Sears, TJ Maxx, Target and Toys "R" Us.