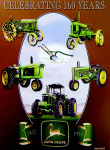 The Great Recession has loosened its ugly grip on the economy, and as some wholesalers illustrate, with the right prices, products and an overall positive outlook, anything is possible in good times and bad. Nostalgic Images, while aware of the dissipation of product browsers and merchandise inquiries over the past few years, still continues to see a steady flow of product orders and loyal customers. The wholesaler's niche in nostalgic products seems to be recession-proof. "While money is tight, true collectors find the funds to keep up their hobby," says Tim Boldman of Nostalgic Images.
Nostalia Keeps Customers and Collectors Coming Back
Nostalgic Images started grabbing collectors' attention in 1990 with a wide range of tin signs mounted on 16 inch by 20 inch artist blackboard.  Over the next few years the line continued to grow adding high quality street and parking signs along with collector art prints and 3D art prints. "We have also added high quality closeouts of every shape and size to give our customers a more complete wholesale buying experience. We now have over 700 designs of tin signs along with 300 designs of street, parking, and collector art prints," notes Boldman. One of the most successful products this year for our customers has been the Original Sock Monkey™ line.  The line includes hats, gloves, scarves, children sets, traditional monkeys, and our patented Superfly™ sock monkey.
The success of its new lines is no surprise. Nostalgic Images knows a lot about reacting quickly to popular demand, something that Boldman says will keep the company going steady in 2012. The company has also seen success over the past year due to its updated website. "The shopping experience is quicker and easier for customers. The old site got a little outdated, and it was sometimes hard for people to find what they wanted," says Boldman, the driving force behind the improvements. A quick look at NostalgicImages.com shows "Featured Products" on the homepage, which change daily. "It gives customers a good reason to check in frequently," Boldman adds, "as we're always updating and refreshing our stock." Nostalgic Images' new site also features a "New Items" and "Popular Items" category at the bottom of the homepage, and the Closeouts and Metal Signs area is now searchable by category. "
We just wanted to make this as simple as we could for our customers," Boldman says, "and we believe we've succeeded. It will continue to be an asset in the new year." For Nostalgic Images the future is hopeful as people continue to grow their collections. By remaining true to its niche market, practicing an aggressive business model, and providing top of the line customer service, Nostalgic Images can feel confident about the upcoming year.
For more information:
Nostalgic Images
26012 Nostalgic Road
Defiance, OH 43512
Tel.: 419-784-1728
Website: www.nostalgicimages.com